Power Points
The traditional coal-producing city of Erdos, in the Inner Mongolia autonomous region, is determined to become a base of clean-energy output by the end of 2017.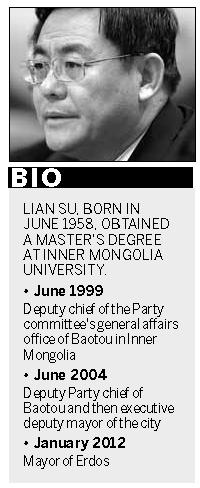 Erdos will expand its coal-generated-electricity and coal-gasification industries this year with a new industrial park, which the city hopes to get help with from the central government. These industries are considered engines for expanding local economic growth, said Lian Su, mayor of the city.
"Supported by the clean-energy sector, industrial fixed-asset investment in 2013 is likely to increase to 160 billion yuan ($25.9 billion), up 13.2 percent from last year, and industrial output may rise to 220 billion yuan, 13 percent higher," Lian said.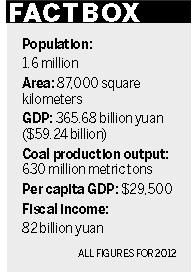 By the end of 2017, the total production capability of coal-generated electricity is expected to increase to 25 million kilowatts from the current 13 million kW, the governor said.
If the city can get the ultra-high voltage equipment it needs to transmit its coal-generated electricity over long distances, Beijing's air pollution can be reduced, he said.
"It would also be an effective way to ease the burden of long-distance transportation of coal, and reduce the waste," Lian said.
Erdos' economic development depends mainly on the industrial sector, which contributed more than 40 percent of the city's GDP.
Erdos produced 4.8 billion metric tons of raw coal and 84.94 billion cubic meters of natural gas from 2008 to 2012.
About 60 percent of the city's industrial output value comes from coal mining. The coal output in Erdos last year was 630 million tons, accounting for 17.2 percent of the nation's total. Proven coal reserves in Erdos are almost 160 billion tons, 16.7 percent of China's total.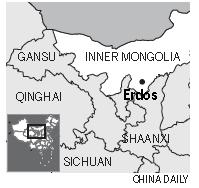 Erdos saw its annual per capita GDP last year reach $29,500, nearly five times the national average, and good enough to make it the fifth-richest city in China.
However, overdependence on resource development has led the mayor to consider the sustainability of that economic growth, especially after the central government vowed to adjust the economic structure.
"The potential crisis will harm the whole economy if the transformation is delayed," Lian said. The currency economic growth model of Erdos is low-quality and less efficient, wasting resources and polluting the environment, he added.
Lian expects to raise the proportion of industrial output of noncoal business to more than 50 percent, focusing on the development of automobile manufacturing, electronic information and cloud computing as well as cashmere textile industries.