Energy efficiency boosts China's green shift
(Xinhua)
2012-10-31 11:47
| | |
| --- | --- |
| | |
COPENHAGEN -- Higher energy-efficiency standards, rational prices on carbon and deep investments in urban energy infrastructure could quicken China's transition to a green economy, said Niels B. Christiansen, CEO of Danfoss, a world giant in green technology and business.
China could make financial savings and improve living standards by adopting tougher regulation governing energy efficiency of homes, offices and factories, among others, Christiansen told Xinhua in a recent interview.
Energy efficiency
"By raising these standards, the transition would get going, and a lot of good technologies will be deployed," he said.
"In the short term, raising standards is a bit expensive, so there will be a challenge in making sure it happens nevertheless, to make sure we eventually get savings," he added, referring to problems facing China's green transition.
The UN's Environment Program defines the green economy as one where "growth in income and employment should be driven by public and private investments that reduce carbon emissions and pollution, enhance energy and resource efficiency, and prevent the loss of biodiversity and ecosystem services."
China is greening its economy on multiple fronts under its ongoing 12th Five-Year Plan, including by reducing dependence on coal-fired plants with those run on renewable sources like biomass, wind energy and solar power, as well as wider and improved deployment of nuclear power.
Better insulation of homes and offices to cut heating bills, combined urban heat and power networks, improved energy-efficiency of production facilities, and alternative-fuel cars, are being implemented along with other solutions.
Danfoss, headquartered in Denmark, is a global leading manufacturer of energy-efficiency and temperature-control devices, and has extensive production, research and development facilities in China. It believes higher energy efficiency standards are urgently needed to improve the competitiveness and sustainability of Chinese industry.
"China needs to be thinking about getting to 'best in class' standards, because that is where the green transition actually will happen, and money will be saved. The way to go is to start to raise standards, so that everybody competing in that market will have to meet a certain level," Christiansen said.
To illustrate his point Christiansen mentioned the radiator thermostat, a product which provides 20 to 40 percent energy savings, and is found in radiators in most European homes. He said most Chinese homes "of similar level" do not have radiators with thermostats, meaning they simply miss out on these savings.
He added that solutions like thermostats, which are built on existing technology, are among "the low-hanging fruits which could help kick-start this transition" and should be made "mandatory".
Carbon price
Meanwhile, putting a reasonable price on carbon dioxide emissions, which are linked to global warming, would automatically provide a China-wide standard that all industries would have to adhere to.
"We have seen in many countries that a subsidized energy price, that is artificially low, makes the transition slower, because it keeps us using old technology for longer," Christiansen said.
He said energy must be priced "at its real cost" so that companies are urged to use energy-saving technologies, boost research and development into clean energy, and thus accelerate the green transition.
For its part, the Chinese government says it plans to increase the share of non fossil-fuel based energy in the country's total energy consumption to 11.4 percent in 2015, up from 8.3 percent in 2010.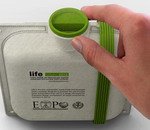 An Italian designer, Andrea Ponti, designed a recycled paper-made water container for the Milano Expo 2015, according to yankodesign.com.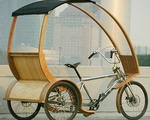 The Bamboo treecycle developed by MGT Engineering Ltd is on dispay at the 21th China Int'l Bicycle and Motor Fair.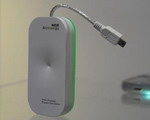 A US electronics company invented a charger that draws its power from Wifi signals.
The China International Green Innovative Products & Technologies Show 2012 will open from Friday to Sunday in Guangzhou, Guangdong province.
Twenty-one private enterprises from China will join the China Going Green Dialogues - part of the 2012 UN Conference on Sustainable Development, known as Rio+20 - in June, in Rio de Janeiro, Brazil.
Heilongjiang Forest Ecological Tourism Festival, an event aiming to promote healthy and environmentally friendly tourism, will be held in Yichun, Heilongjiang province, on July 13.