Customers look to environmentally friendly furniture for their homes
Zhang Yanmin advertises the small furniture his company makes is environmentally friendly.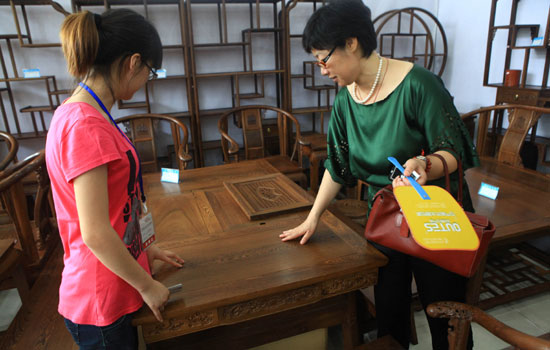 A woman examining a table at a furniture market in Jiujiang, in East China's Jiangxi province. Chinese furniture companies are creating environmentally friendly designs and manufacturing processes to meet new standards set by both China and overseas markets. [Photo/China Daily] 
"The formaldehyde content of our furniture is in line with national standards and we use real wood and recycled glue so our products are 100 percent green," said the founder and general manager of Zhejiang Yacheng Furniture Co, in Jinhua city, East China's Zhejiang province.
Zhang's company employs more than 80 local people. Half of the company's products are sold on by US clients and half are sold in China. "Times are tough. Green requirements from both the international market and domestic customers put pressure in terms of cost and technology on us," said Zhang, adding that although materials and labor costs are rising, he feels he cannot increase prices, given intensified competition.
Chinese furniture makers are now facing great challenges concerning environmental protection, said Zhu Changling, chairman of China National Furniture Association, explaining that foreign importers have increased green standards and Chinese customers are paying much more attention to environmentally friendly issues that increase costs.
In contrast, Fu Haijun, founder and general manager of Beijing-based Camerich Furniture Co, said he sees opportunities in green furniture production.
The company has been putting efforts into environmentally friendly furniture design and manufacturing. Camerich is focusing on the self-design high-end market and currently has 42 stores abroad. "Green is a fashion and our customers are willing and prefer to spend more money on environmentally friendly design and products," said Fu.
Camerich is promoting a new series of branded Topo to the market, which uses a new green fabric - super-fiber material. The new fabric is abrasion-resistant, heat-resistant, anti-corrosion, aging-resistant and easy to clean.
"The Topo series' outlook is cute and modern. In combining an environmentally friendly fabric and environmentally friendly processing technologies, we believe it will be welcomed by people in China and overseas," said Shirley Wang, marketing and branding director at Camerich. "Now green has become a fashion, people's attention to and acceptance of such products will surge," said Wang.
In addition to modernizing the products, production technologies were updated to optimize processing procedures and simplify the materials used. "Less processing and more reasonable procedures and more simple materials will help to reduce the usage of water and electricity and keep products more natural," said Wang.
The markets in the West have issued stricter regulations on green standards of furniture imports, forcing Chinese companies - who make up around a quarter of the world's exports - to undertake more green production. The Europe Union officially approved new environmentally friendly design regulations on timber and wood products at the beginning of September, which will force some Chinese manufacturers out of the European market.
Yacheng's Zhang said his company is consequently upgrading its technology to face the new challenge. "It's not the first time (the EU has increased standards). We must stay with the time. However, given our capital and technological strength, it's really difficult," he said.
On the other hand, it's not a problem for Camerich, who has accumulated rich experience from working with developed markets, including the United States, Germany, the United Kingdom and Australia. Over the last five years, the sales revenue of Camerich increased 30 percent annually, with contributions from overseas markets making up 40 to 60 percent every year.
"There are two things we are now making efforts to do - increasing the added value of technology and continuing investment in green development," said Camerich's Wang.
Some Chinese manufacturers are using local advantages to explore green opportunities. Rongcheng Furniture Group Co, located in Zhejiang province, where there are rich resources of bamboo, is using the green material to make furniture. Zheng Feng, a sales manager at the company, said the technology developed by Rongcheng is very complicated.
"Bamboo likes the humid and warm environment in southern China. Making it solid and tough in the dry and cold conditions in northern China and in other nations and regions is what constitutes the value of our products," he said.
The company is actively exploring overseas markets and trying to convince potential customers there to accept this traditional Chinese furniture material, although it is not finding it easy.
During the first seven months of this year, the output value of China's furniture industry amounted to 303 billion yuan ($47.72 billion), up 16.35 percent year-on-year, according to the National Furniture Industry Association.
In the retail market, around 80 percent of furniture makers claim their products are environmentally friendly. However, due to lack of unified industrial standards, would-be buyers find it difficult to verify the claims.
When choosing furniture for his new house, Dong Jian's first requirement is to choose on environmentally friendly grounds. Dong, the father of a 1-year-old baby and marketing manager at a large State-owned company in Beijing, said that he takes the health of family members as the top priority and can afford furniture 20 to 30 percent more expensive than the market average.
"What puzzles me is that they (furniture companies) all say their products are green, but the certificates they showed are from different government departments or industrial associations. I am totally confused over how to judge," he said.
"To set up a unified standards system needs the joint effort of various industries because the production of furniture needs several materials and technologies, from glue to metal, from timber processing to welding. If any part is not green, we cannot say the product is green," said Zhu of China National Furniture Association.
liujie@chinadaily.com.cn