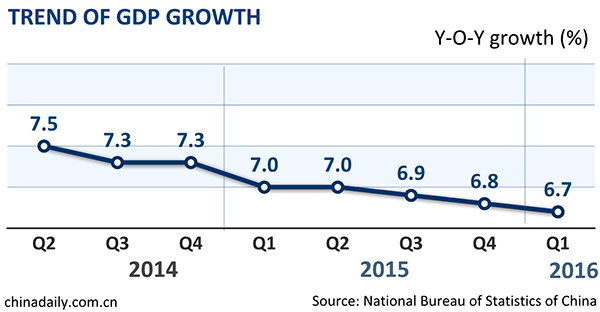 China's gross domestic product expanded 6.7 percent year on year in the first half of 2016 to reach 34.06 trillion yuan ($5.08 trillion), the National Bureau of Statistics said on Friday.
In the first half, the national per capita disposable income stood at 11,886 yuan, a nominal growth of 8.7 percent year on year. The actual increase was 6.5 percent after deducting price factors.
The country saw summer grain output of 139.26 million tons, down 1.2 percent or 1.62 million tons less than the same period of last year. Summer grain output was slightly lower than the highest year of 2015, the second high-yield year in history.
Investment in China's property sector rose 6.1 percent year on year in the first half of 2016, slightly lower than 6.2 percent registered in the first quarter.
Fixed-asset investment grew 9 percent in the first half of 2016, compared with a 10.7-percent growth recorded in the first quarter, official data showed Friday.
Retail sales of consumer goods grew 10.3 percent year on year in the first half of this year, staying flat with the 10.3-percent growth for the first quarter, official data showed on Friday.
New yuan-denominated lending in June stood at 1.38 trillion yuan ($205.97 billion), up 104.4 billion yuan from a year earlier, official data showed on Friday.
The M2, a broad measure of money supply that covers cash in circulation and all deposits, rose 11.8 percent year on year to 149.05 trillion yuan by the end of June, the People's Bank of China said in a statement on its website.
The narrow measure of money supply (M1), which covers cash in circulation plus demand deposits, rose 24.6 percent year on year to 44.36 trillion yuan.
Growth of China's industrial output grew 6.2 percent year on year in June, up from 6.0 percent growth in April and May, mainly thanks to strong performance in the high-tech and equipment manufacturing sectors.
China's exports dropped 2.1 percent to reach 6.4 trillion yuan ($956.8 billion) in the first half of the year, while imports shrank 4.7 percent to 4.73 trillion yuan, Customs data released earlier this week showed.
Xinhua contributed to this story
Related story:
Li says he's confident of steady growth by Hu Yongqi, China Daily
Stable macroeconomic policies will boost the structural transformations and domestic demands that are now pillars of China's economy, Premier Li Keqiang said at a State Council meeting on Monday.
China's GDP increased by 6.7 percent year-on-year in the first quarter, which Li said surprised many foreign leaders.
Five speakers at the meeting agreed that consumption and the service sector have become important areas for growth. However, they also said that periodic and structural conflicts still exist and require a balance between economic growth and restructuring.
"Amid a sluggish world economy and global demand, domestic reforms and restructuring must keep the growth rate within a reasonable range, even though downward pressure still exists," the premier said.
Li expressed confidence in steady and healthy economic growth by promoting restructuring and keeping a sober mind about difficulties amid complex international and domestic conditions.
The premier said innovations must be promoted to boost market vitality. Meanwhile, potential must be unleashed for urbanization to enhance demand and strengthen infrastructure, such as flood control facilities, as well as fortifying the country's social security systems.
Li said new economic dynamics have supported employment by creating more jobs.
The first half-year saw 7.17 million new jobs created in urban areas, according to the Ministry of Human Resources and Social Security.
Guan Xiyou, chairman of the board of Shenyang Machinery Tool Co and one of the speakers, said the premier's remarks gave his company more confidence to focus on new business opportunities.