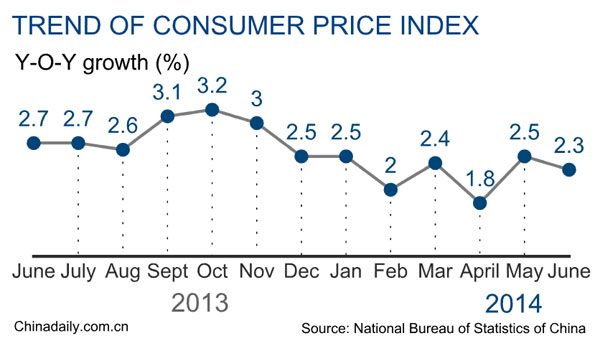 BEIJING - The consumer price index (CPI), a main gauge of inflation, softened to a 2.3 percent year-on-year growth in June, triggering concerns of broader monetary policy easing as a whole year outlook points to a soft inflation rate.
The June figure was down from 2.5 percent in May, China's National Bureau of Statistics (NBS) announced on Wednesday.
The growth was in line with previous market forecasts that the CPI would further moderate in June from the previous month. NBS data also showed the inflation rate in the world's second largest economy stood at 2.3 percent in the first half of 2014.
"The lower inflation rate last month was mainly because of lesser impact from the carryover effects from last year, and fewer new factors for price gains compared to May," said Yu Qiumei, a senior NBS statistician.
In June, inflation in the country's urban regions grew 2.4 percent, higher than the 2.1 percent in the rural regions, NBS data showed.
Food prices, which account for around one third of the weighting in the CPI calculation, grew at a tempered rate of 3.7 percent year on year last month, down from the 4.1-percent growth in May. Food prices in June also declined 0.4 percent month on month.
In the food category, fresh fruits provided the greatest boost to inflation, with prices jumping 19.8 percent year on year in June, contributing 0.42 percentage points to the CPI.
The meat and poultry category in general rose 1.9 percent, pushing up the CPI by 0.14 percentage points, but the price of pork, a staple of the Chinese diet, dipped 2.7 percent.
Prices of sea products grew 4 percent; prices of grain went up 3.2 percent, while fresh vegetable prices went down 1.8 percent, the NBS said.
Non-food prices, such as those for tobacco, liquor, transport, and telecommunications, remained flat compared to May.
NBS data released on Wednesday also showed China's producer price index, which measures inflation at the wholesale level, dropped 1.1 percent year on year in June. However, the decline narrowed by 0.3 percentage points compared to the previous month.
Analysts said price levels in China were generally in low territory in the first half of this year amid an economic slowdown which reduced demand. They said the country is currently not faced with much pressure to control inflation, which would leave more room for the easing of monetary policies to boost growth.
"We continue to look for more policy easing to sustain the growth momentum in H2. We expect the government to accelerate fiscal spending and open up more infrastructure sectors to private sector participation," a Barclays report said on Wednesday. The report added that inflation will not be a constraint for policy easing in 2014, and will be contained this year.
It also forecast that the central bank might cut interest rates twice or resort to equivalent measures to lower financing costs.
However, a Merrill Lynch research report on Wednesday said that China will resist calls for universal measures such as cutting benchmark rates and cutting reserve requirement ratios (RRR) for all banks, instead stepping up targeted measures to reach the annual growth target of around 7.5 percent.
Since this year, the government has expanded targeted RRR cuts for certain banks which lend to small companies and agriculture.
Late last month, the China Banking Regulatory Commission also announced that it will adjust the loan to deposit ratio to ease credit supply.