Beijing - China's mobile phone shipments registered at 97 million units in Q1 2013, up 15% compared with the same period in 2012, while China's smartphone shipments totaled 78 million units in Q1 2013, with a growth of 117% compared with the same period in 2012.
International Data Corporation (IDC) believes such a high-speed growth of China's smartphone market would not be possible without China Mobile's efforts.
According to IDC's 2013 Q1 China Mobile Phone Quarterly Tracker, shipments of TDMC-based (Time Division Multiple Access) smartphones reached 28 million units in Q1 2013, with a year-on-year growth of 390%. This resulted in the share of smartphones in China's mobile phone market reaching a new high of 79%.
From the perspective of vendors, in terms of smartphone shipments, Samsung continues to rank as No 1 with a market share of 19% and a link relative ratio of 34%. Its shipments of products under $200 grew by 47%.
In Q1 2013, Apple ranked the fifth with a market share of 9% and a link relative ratio of 21%. The shipments of iPhone4 (8G), which is an excellent performer, grew by 211% over the previous quarter.
Except Huawei, despite the recent release of their operator-subsidized products, other large domestic mobile phone vendors have not experienced a prominent increase in their Q1 shipments.
Antonio Wang, associate director of Computing Systems Research Group of IDC China, says, "In China's smartphone market, Samsung has switched its marketing focus from competing with Apple for high-end market to maintaining its high-end market share, and is starting to strive for market for products under $200, which has so far been dominated by domestic brands. However, Apple leverages the incentive policies for channels to inspire the shipments of iPhone4, further expanding its user base."
IDC predicts that, thanks to operator subsidies and robust consumer demands for new phones, China's smartphone shipments will increase sharply in 2013; in 2017, smartphone shipments will exceed 460 million units to reach a market size of RMB 740.5 billion ($117.8 billion).
IDC research indicates that the development of smartphones will inevitably drive the innovation of the entire industry chain, further promoting the perfection of mobile communications and mobile internet ecosystem.
James Yan, senior analyst of IDC China, who is responsible for mobile phone market research, predicts that the development trends of China's mobile phone industry chain will manifest in the following aspects in the next five years: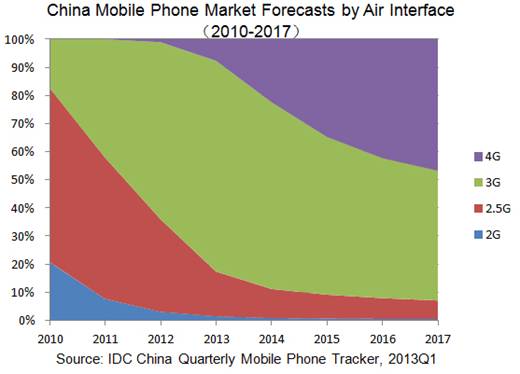 4G smartphone will make up 40% market share in 2017.[Graph/IDC]