Yidianzixun CEO: Capital plays important role in internet industry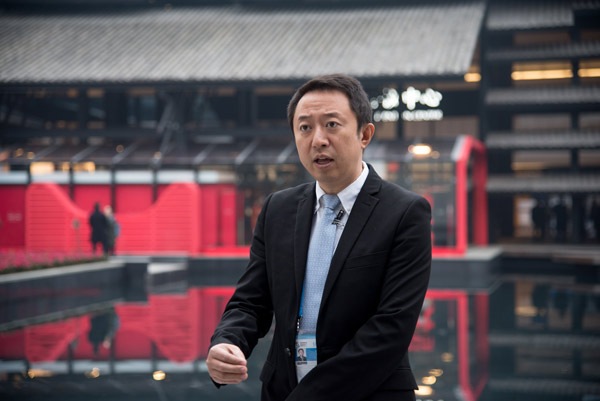 Li Ya, CEO of mobile news aggregator Yidianzixun. [Photo by Wang Chengmeng/chinadaily.com.cn]
Capital force, such as venture capital and private equity funds, has played an important role in the internet industry's development both in China and the United States, said Li Ya, CEO of mobile news aggregator Yidianzixun.
"China's public market definitely wants these innovative companies to be listed domestically rather than going overseas for IPOs."
Given this, China needs to accelerate the pace of opening up its domestic public trading market, which will further encourage innovations and help to introduce fair mechanisms for new companies to grow and compete in China, he told China Daily Website on Sunday in an interview on the sideline of the 4th World Internet Conference.
The conference, which began on Sunday and ends on Tuesday, is underway in East China's water town of Wuzhen, Zhejiang province.
In Li's view, internet is penetrating every dimension, every aspect of people's lives, and this phenomenon explained why Chinese government encourages the so-called the "Internet Plus" and internet of things.
Meanwhile, China also decided to speed up AI development. In July, the State Council, or China's cabinet, articulated the country's AI development agenda, setting a goal of becoming the major artificial intelligence innovation center of the world by 2030.
General Secretary Xi Jinping said in the report delivered at the opening of the 19th CPC National Congress that China will promote further integration of the internet, big data, and artificial intelligence with the real economy.
As for AI development, Li said, "in the next three to five years, people will be sure to feel the impact of the AI in their daily lives. I think one important thing is how we put human value in front of the machine algorithm, so that we can use the technology for good".
'100 percent concentration on Yidian'
Established in 2012, Yidian positions itself as a media platform claiming to be based on a combination of machine recommendation and people's active expression of their interests.
The Beijing-based company has made further progress this year, including receiving the license for internet news information service, the first one issued since the related new regulations came into effect in June.
The license will allow Yidian to gain competitive advantages over its peers, especially on content acquisition on its we-media platform Yidiaohao, the third quarter financial report of Phoenix New Media released in November showed.
Li regarded the internet license as a unique opportunity for Yidian, as he quit ifeng.com in September and paid all his attention to Yidian.
"We are in a very tough market and you have to concentrate in order to win the competition. And I think our users and our team, our coworkers and shareholders all demand the 100 percent concentration on Yidian."
Other progress is upgraded cooperation with smart phone makers - OPPO and Xiaomi, while Yidian also collaborated with universities for we-media training and made columns of Zhihu, a Chinese Q&A website, accessible on its platform.
At the same time, the financial report also indicated that Yidian has gained investment of $112.1 million from Long De Cheng Zhang Culture Communication (Tianjin) Co and the other two investors, with an estimated transaction valuation of about $1 billion.