Expert moots protection for internet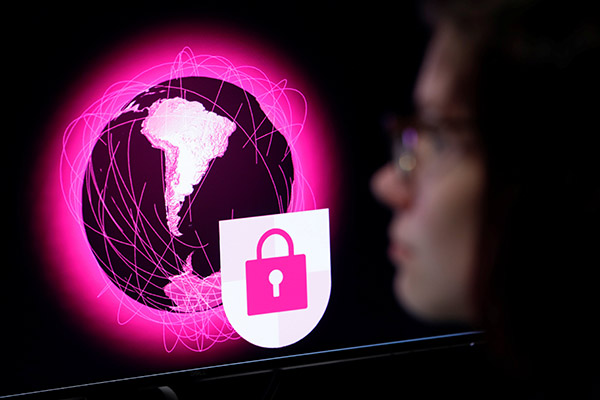 Cyber Defense and Security Operation Center of Telekom Security, a business unit of Germany's telecommunications giant Deutsche Telekom AG, has just opened in Bonn. [Photo/Agencies]
The internet, which has been used as a tool by terrorists for recruitment and for plotting attacks, can well become a terrorist target itself, a China anti-terrorism expert has said.
"Terrorists use the internet to spread their beliefs and set up online training centers to train people to carry out lonewolf attacks. But they may target the internet itself one day creating greater problems. So fighting terrorism on the internet has become a key subject in global counter-terrorism operations," said Li Wei, an anti-terrorism expert at the China Institutes of Contemporary International Relations.
Countries need to reach a consensus on terrorist-related issues in real life so they can better fight terrorism on the internet.
The development of the internet in different countries varies, so bridging the technical gap is also a challenge, he added.
In addition to stopping terrorist acts, the spread of terrorist propaganda online and on social media must be curbed. Much of the content targets young people and lures them into violence.
Chen Weiqiong, an official on the United Nations Security Council Counter-Terrorism Committee, said that fighting online terrorism has become a new challenge and urgent task worldwide as terrorists and terrorist organizations use the internet and social media to recruit, provide training and plot regular attacks.
Also, fighting online terrorism is complicated work that requires understanding of law and knowledge of technical issues. It also requires the involvement of government officials, experts, business owners and the public.
Wang Yong, vice-president of the People's Public Security University of China, said that terrorist organizations have also adapted to the internet, and as a result they have become more "cunning and flexible".
Therefore, it is more difficult to detect and eliminate them, he added.
It will be very dangerous if the terrorists use the internet to launch attacks to paralyze daily life, which means they can cause massive chaos without carrying out physical terrorist attacks, said Wang.
The National People's Congress passed China's first Cybersecurity Law in November 2016, which allows the authorities to take action against overseas individuals or organizations that harm China's interests.
A total of 710 people were charged with online crimes in the first nine months of 2017, up 80.7 percent year-on-year.
Cybercrimes of infringement of personal information, online rumor-spreading, cyber blackmail, cyber terrorism and selling drugs online are rising, China's Supreme People's Procuratorate said in October.