WHO, China sign pact establishing 'health Silk Road'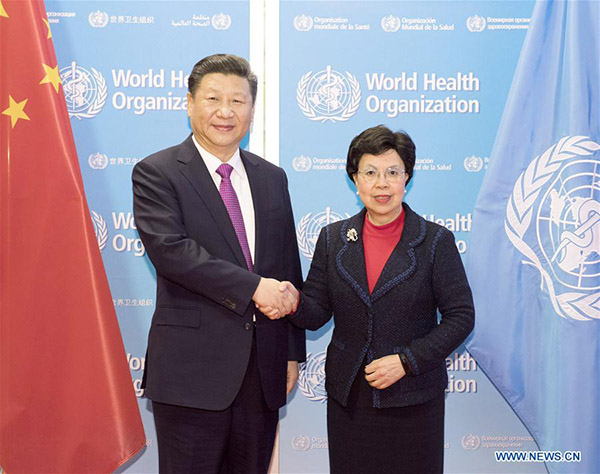 Chinese President Xi Jinping (L) meets with World Health Organization (WHO) Director-General Margaret Chan in Geneva, Switzerland, Jan. 18, 2017. [Photo/Xinhua]
China and the World Health Organization agreed on Wednesday to jointly implement a Belt and Road Initiative that focuses on health.
Witnessed by President Xi Jinping and Margaret Chan, the World Health Organization (WHO) director-general, the two sides signed a memorandum of understanding on the initiative. The WHO has become the first global organization under the United Nations to have signed such an agreement with China.
China welcomes the WHO to jointly establish the "health Silk Road", Xi said, adding that China would like to enhance cooperation with the WHO in implementing the 2030 sustainable development agenda and assistance to developing countries.
Chan spoke highly of China's contributions to the work of the WHO and the country's leading role in global health governance.
The WHO would like to enhance cooperation with China under the Belt and Road Initiative to improve the health of the people along the route, she added.
After the talks, Xi attended a ceremony to donate a bronze statue featuring China's traditional acupuncture to the WHO.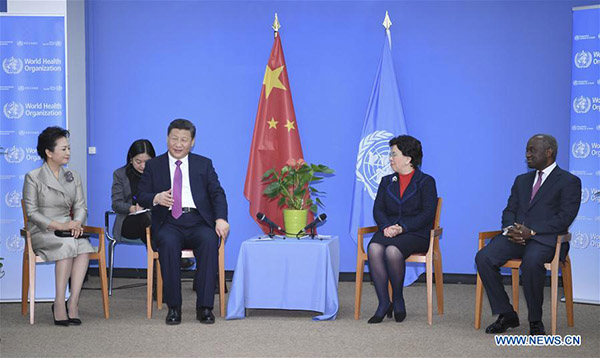 Chinese President Xi Jinping (2nd L) meets with World Health Organization (WHO) Director-General Margaret Chan (2nd R) in Geneva, Switzerland, Jan. 18, 2017. [Photo/Xinhua]
China will host the first Belt and Road Initiative international forum in Beijing in May, which is part of China's efforts to make globalization more inclusive and beneficial to all, Xi said at the Davos Economic Forum on Tuesday.
The Belt and Road initiative, put forward by Xi in 2013, aims to revive the ancient Silk Road with a focus on infrastructure and economic development. Over 100 countries and international organizations have given support to the initiative, and more than 40 have signed cooperation agreements with China, Xi said.
Chinese investment along the routes has surpassed $50 billion in the past three years with a number of major projects being launched in the countries along the routes, spurring the economic development of these countries and creating many local jobs, noted Xi.
anbaijie@chinadaily.com.cn