Xi says China-US ties progressing in right direction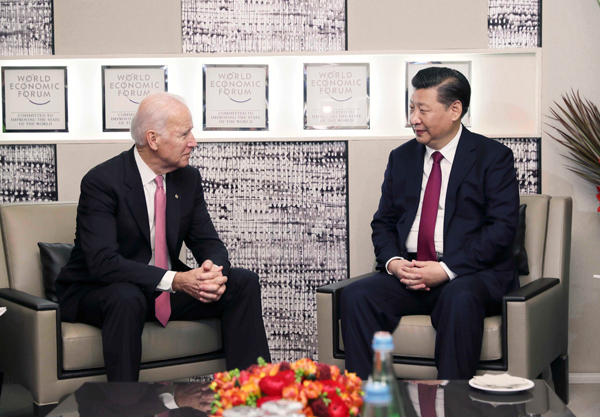 China's President Xi Jinping, right, meets US Vice-President Joe Biden at the annual meeting of the Davos World Economic Forum in Switzerland.  [Photo/Agencies]
China's President Xi Jinping called on joint efforts with the United States on Tuesday to safeguard the core interests of both sides and establish a long-term stable relationship.
Xi made the remarks while meeting US Vice-President Joe Biden at the annual meeting of the Davos World Economic Forum in Switzerland.
Even though the Sino-US relationship has experienced turbulence in the past decades, the bilateral ties have progressed in the right direction, Xi said.
The Chinese president spoke highly of the consensus he had reached with US President Barack Obama in recent years, saying that the bilateral trade, investment and people-to-people exchanges have all achieved remarkable success.
Xi praised Biden's contribution to boosting the understanding between people of the two countries. He also asked Biden to extend his wishes to Obama.
Biden congratulated on Xi's excellent and important keynote speech at the open ceremony of the forum. About 3,000 political and business leaders attended the forum.
The US-China relationship is of great importance, he said, adding that the development of the two countries is important for the world. He also extended Obama's wishes to Xi.