President Xi helps launch Chinese-Swiss tourism year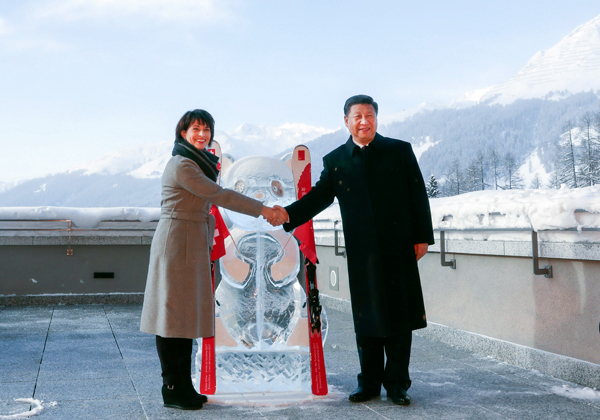 Chinese President Xi Jinping (R) and his Swiss counterpart Doris Leuthard shake hands as they launch the Sino-Swiss Year of Tourism next to a panda ice sculpture on the side line of the 47th annual meeting of the World Economic Forum (WEF) in Davos, Switzerland, January 17, 2017. [Photo/Xinhua]
President Xi Jinping and his Swiss counterpart Doris Leuthard launched the China-Switzerland Tourism Year in Davos on Tuesday.
During the ceremony, the two leaders posed together in front of an ice panda statue and snowboard with the national flags of both sides.
Swiss government statistics show that 2015 saw a 33% increase in the number of hotel bookings by Chinese tourists. China has for the first time become the fourth largest source of tourists for Switzerland, behind only Germany, the United States and the United Kingdom.
Last year, Switzerland opened a new general consulate in Chengdu, Sichuan province - the fifth Swiss diplomatic agency in China after the embassy in Beijing and three other general consulates in Shanghai, Guangzhou and Hong Kong.
"We have taken some visa facilitation measures, such as quick-visa approval taking only two days, and issuing long-term and multi-entry visas to encourage Chinese tourists to come to Switzerland," said Alain Gaschen, minister and deputy head of mission at the Swiss embassy to China.
Switzerland's refusal of tourist visa applications is below two percent in China, Gaschen said.
"I believe that the presence of President Xi and the Swiss snow will attract more Chinese tourists," he added.
Simon Bosshart, an official with Switzerland Tourism, said that Switzerland resorts are more and more ready to welcome Chinese guests in an appropriate manner.
"For example, we have 19 ski resorts which offer one-day ski experiences this winter. These are experiences for absolute beginners who want to give it the first try. In another example, ten resorts are providing Chinese ski instructors after previous requests for bookings with Chinese-speaking ski lessons," he told Xinhua News Agency earlier.