President: China shows what opening up can do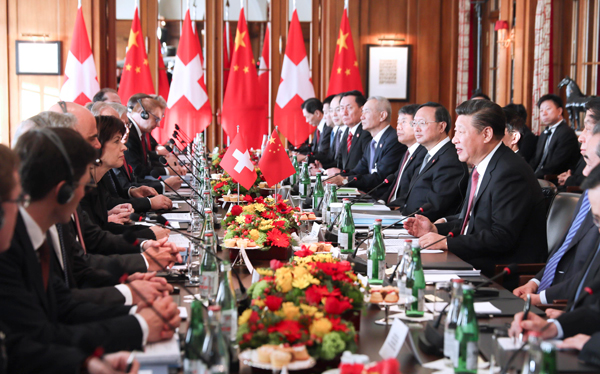 Delegations from China and Switzerland attend official talks in Bern, Switzerland, on Jan 16, 2017. [Photo by Lan Hongguang/Xinhua]
President Xi Jinping voiced support for open economies on Monday, a day ahead of his participation in the World Economic Forum in Davos, Switzerland, where some 3,000 influential political and business leaders will gather.
Openness has been the key to China's rapid economic growth following implementation of the reform and opening-up policy starting in the late 1970s, Xi said.
Xi made the remarks while meeting in Bern with Swiss businesspeople in the company of Switzerland's president, Doris Leuthard, during his four-day visit to the country.
The Chinese president is to deliver the keynote speech at the Davos forum on Tuesday morning. He will be the first Chinese head of state to attend. A strong Chinese business delegation also will be present.
"Through attending the World Economic Forum annual meeting and visiting international organizations, I hope to gather a consensus with all sides on maintaining world peace, promoting common development and settling major global issues under the current situation, thus delivering positive energy to the international community," he said.
China and Switzerland will make joint efforts to encourage innovation, and they plan to cooperate closely in areas including investment, finance and insurance, Xi said.
Citing the 2022 Winter Olympics to be held in China, Xi said that the two countries could work together on winter sports and share development opportunities from the event.
Mentioning that Tuesday will mark the 67th anniversary of Switzerland's recognition of the People's Republic of China, Leuthard said that Switzerland is one of the first Western countries to establish diplomatic ties with Beijing.
At the start of this century, Switzerland was among the first European countries to recognize China's full market economy status, she added.
This year is Switzerland-China Tourism Year, she said, adding that more people from both countries have been exchanging visits in recent years.
Wang Yiwei, a professor of European studies at Renmin University of China, said that China and Switzerland, which have already achieved progress in free trade and financial cooperation, could strengthen ties in areas including renewable energy, agriculture, environmental protection and pharmaceuticals.
"The successful operation of the China-Switzerland free-trade economic agreement has shown that China absolutely can make high-level FTAs work with developed Western countries," he said.
Ruan Zongze, vice-president of the China Institute of International Studies, said that China considers Switzerland an important partner in Europe, and the two countries have already established more than 20 forums to communicate in areas including the environment, labor and human rights, intellectual property rights and finance.
Switzerland was a founding member of the China-based Asian Infrastructure Investment Bank.