Top 10 luxury brands in China's cyberspace
Some luxury brands began to advertise and even tried to sell products on WeChat, one of China's most popular instant messaging app in 2016, indicating increased input in digital development. Fortune Character Institute, a research agency which has tracked China's luxury consumption trends for years, noted that global luxury companies have spent more than $4.5 billion in broadening their presence in cyberspace.
The institute pointed out that traffic on official websites and official WeChat accounts and Weibo accounts of luxury brands were marginal, although the sites were well maintained and had full functions.
Zhou Ting, head of the institute, predicted that in 2017 the main direction for luxury brands could be improving shopping experience and sales via e-service. A total of 34 percent of surveyed consumers reported that they expected that they could order online and pick up at bricks-and-mortar outlets as this could save them 50 percent of shopping time and correspondingly they would spend 20 to 50 percent more money.
On Jan 10 in Shanghai, the institute released the Luxury Brands Global Digital Development Report for the year 2016 based on surveys carried on 3,726 high-net-worth individuals.
Let us take a look at the top 10 luxury brands that have done a better job in digital communication in China.
No 10 Chaumet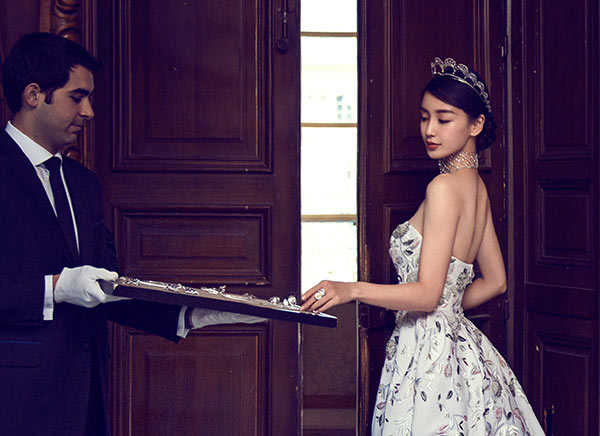 Angelababy, wearing a Chaumet crown, is photographed in Paris prior to her wedding ceremony in China on Oct 8, 2015. [Photo/IC]