Trade gains in double digits seen for this year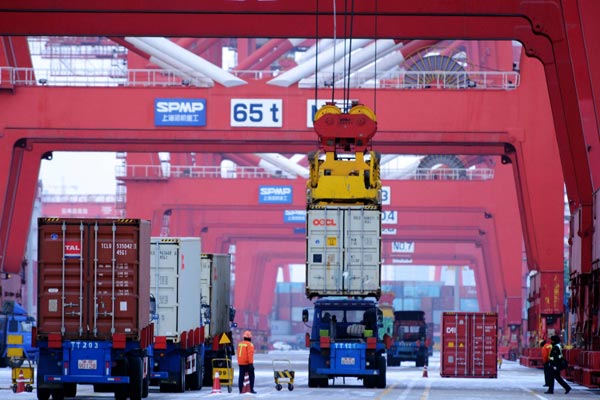 A ship loads containers at a terminal in Qingdao, Shandong province. [Photo/China Daily]
Growth of China's imports and exports is expected to see double-digit gains this year, thanks to rising demand as a result of improvement in the domestic and global economies, the General Administration of Customs said on Friday.
The country's foreign trade volume jumped by 16.6 percent year-on-year to 20.29 trillion yuan ($3.08 trillion) in the first three quarters of this year, according to customs data released on Friday.
GAC spokesman Huang Songping said unstable and uncertain elements may affect the country's foreign trade development, but new growth drivers are taking the place of old ones and steady progress is being made in the structural adjustment, thus supporting stable growth of foreign trade.
"The situation will remain positive if the current conditions remain unchanged by the end of this year," Huang said at a news conference.
The latest trade figures and Huang's positive forecast of the country's trade growth prospects this year have helped ease concerns that it is struggling to maintain stable trade growth this year.
Exports grew by 12.4 percent year-on-year to 11.16 trillion yuan in the January-September period, while imports surged by 22.3 percent to 9.13 trillion yuan.
Trade surplus shrank by 17.7 percent from the same period a year earlier to 2.03 trillion yuan.
Huang said rising demand for goods in overseas markets with economic recovery and infrastructure projects, trade of high-tech products, and development of the Belt and Road Initiative will build a solid foundation for China's foreign trade this year.
"It has been a year since global trade recovered, and it has passed its peak moment," said Zhang Yongjun, a researcher at the China Center for International Economic Exchanges in Beijing.
Meanwhile, foreign direct investment to China rose by 1.6 percent year-on-year between January and September to 618.57 billion yuan, the Ministry of Commerce announced on Friday.