Sino-German trade set to take off
Experts see tech-based products increasingly taking center stage
Sino-German investment in technology-based services and trade in advanced products - such as cloud platform systems, smart manufacturing projects and sensors and industrial automation goods - is really set to take off.
They will account for an even greater proportion of Sino-German bilateral trade, officials and experts have said.
Chinese investment in Germany has not been as heavily concentrated in regular manufacturing and greenfield sectors over the past few years.
Funding has started to focus on more high-tech companies for acquisitions, such as leading robotics manufacturer Kuka AG, which last year received a successful takeover offer from Chinese consumer products company Midea Group.
Feng Yaoxiang, spokesman for the China Council for the Promotion of International Trade in Beijing, said Chinese companies are eager to have the most modern technologies.
"With the advent of Industry 4.0, launched in Germany in 2013, we will see new players - especially from the internet field - entering the manufacturing sector, where they will change the customer-supplier relationship in both China and Germany," Feng added.
Bilateral investment remains robust. China pumped more than $2.95 billion into Germany last year, a 258.6-percent increase year-on-year, while Germany invested $2.71 billion in 392 projects in China.
"The dramatic surge in Chinese outbound investment last year triggered a noticeable rise in protectionism, such as the blocking of a Chinese consortium's attempt to acquire German chipmaker Aixtron SE," said Terence Foo, co-managing partner for China at London-based law firm Clifford Chance.
To protect their own interests, France, Germany and Italy asked the European Commission in February to give them the right to veto high-tech takeovers.
"Some lessons certainly can be learned from the deals that were successfully completed in 2016," Foo said.
"Midea completed its acquisition of Kuka after the Chinese company won over the sellers by offering commitments to allow Kuka to operate independently, to preserve jobs and the current management and to keep its public listing."
In the same year, a consortium of Chinese investors successfully acquired Osram's lamp business.
Although the German government was initially hesitant about approving the deal, it was convinced that it did not involve sensitive technologies. The buyers also promised to continue using the Osram brand.
Joe Kaeser, chief executive officer of Siemens AG, said China is making progress on the path to becoming an advanced and competitive economy.
However he said it will take time for these changes to have an impact. Patience and consistency would be required, as well as continuous reforms along the way.
Xue Rongjiu, deputy director of the Beijing-based China Society for WTO Studies, said: "As the United States has been pressing both China and Germany to appreciate their currency exchange rates to maintain competitiveness in manufacturing, both countries have been keen to upgrade the content of their partnership, especially in services and high-end product trade."
Germany is China's biggest trading partner in Europe.
Trade between the two countries totaled $151.29 billion last year, accounting for one-third of the total volume between China and the European Union, according to the Chinese Ministry of Commerce.
Zhong Nan contributed to the story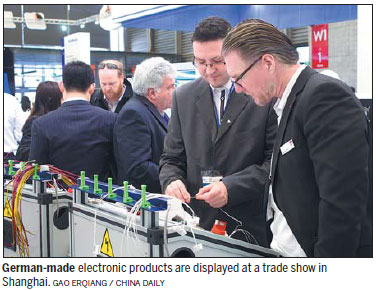 (China Daily 10/13/2017 page11)
Today's Top News
Editor's picks
Most Viewed