Speed limit rockets to 350 km/h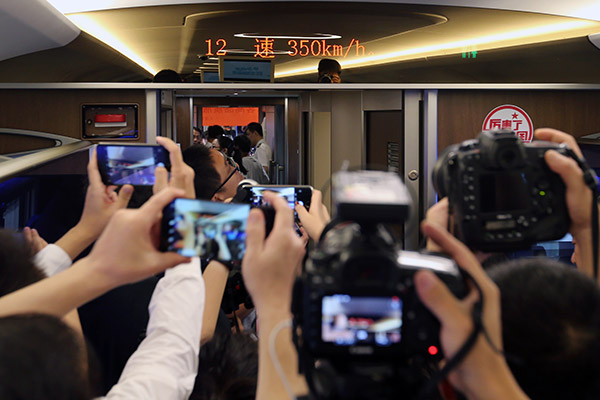 Passengers on a bullet train from Beijing to Shanghai photograph a monitor showing 350 km/h, Sept 21, 2017. [Photo/China Daily by Wang Zhuangfei]
Fuxing trains shoot like a bullet from Beijing to Shanghai in 4:28
The speed on the Beijing-Shanghai high-speed railway was increased to 350 kilometers per hour on Thursday, making it again among the world's fastest train services after the operational limit was reduced six years ago.
Fourteen of the bullet trains, dubbed Fuxing (or Rejuvenation), now run at 350 km/h on the 1,318-km rail line linking China's two biggest cities, according to China Railway Corp, which operates the service. Other trains on the line remain at 300 km/h.
The new service cuts travel time to 4 hours, 28 minutes from roughly five hours, while ticket prices remain unchanged, CRC said.
A fully loaded Fuxing train departed the capital from Beijing South Railway Station at 9 am on Thursday. Before its departure, excited passengers took photos in different poses with one of the Fuxing bullet trains.
"These trains are so popular that the tickets for today's trains sold out a week ago," said Huang Xin, director of operations for CRC.
Shen Naihong, 68, a frequent traveler between Beijing and Shanghai, said after the train had pulled into Jinan West Station in Shandong province that the new service runs smoothly. "I didn't have the feeling of the speed reaching 350 km/h."
Adolfo de Pedro, a 58-year-old Spaniard on a business trip to Shanghai, asked his colleague to take pictures for him once they boarded the train.
"We have bullet trains in Spain. It's not as comfortable and useful as it is here in China. The Spanish government has built a lot of high-speed trains, but it's useless because maybe some cities only have two passengers going for the ride," he said. "Here in China it's much better. It's more efficient and always good to do that."
CRC said the resumption of 350 km/h service is possible thanks to "prominent progress in technology innovation". The service was launched to "meet passengers' anticipation for shorter travel times and improve the service of China's high-speed railway network".
Qi Yanhui, deputy director of science and technology management at CRC, said Fuxing trains-while providing free Wi-Fi, more power outlets, USB ports and extra legroom-have put safety ahead of everything else in design.
He said the new trains are designed to meet the highest standards, and have an expected service life of 30 years or 15 million km. They can run in extreme temperatures from 40 C to -40 C, and can be adapted to various geological and operational situations.
In contrast, the previous Hexie (or Harmony) models were mostly designed with a service life of 20 to 25 years.
The Fuxing is also fitted with more than 2,500 sensors to collect some 1,500 types of real-time data needed to run such a train, 500 more elements than the previous bullet train models, he said.
To reduce fatalities and damage to carriages in accidents, it also is designed with more advanced shock and crash energy absorption equipment, he added.
China lowered the speed of high-speed trains to 300 km/h on five railway lines-Wuhan-Guangzhou, Zhengzhou-Xi'an, Shanghai-Nanjing, Beijing-Tianjin and Shanghai-Hangzhou-in July and August of 2011, due to safety and cost concerns.
Although designed with an operation speed of 350 km/h and a maximum speed of 380 km/h, the Beijing-Shanghai high-speed railway was launched on June 30, 2011 with a speed of 300 km/h.
In the past six years, it has safely transported 672 million passengers.
Though a latecomer, China had a high-speed railway network of more than 22,000 km by the end of last year, the longest system in the world.
Xin Wen, Wang Keju and Xinhua contributed to this story.