Kiwifruit's hometown to hold world conference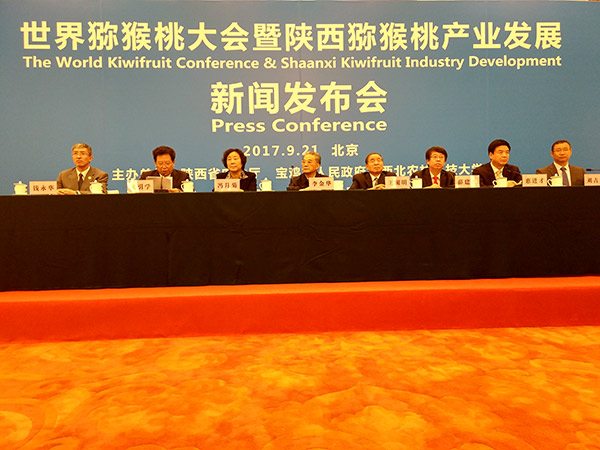 Wen Yinxue,(second from left),Party chief of the Agriculture Department of Shaanxi province, introduces the World Kiwifruit Conference at the Great Hall of the People in Beijing on Sept 21, 2017.[Photo by Song Jingli/chinadaily.com.cn]
After decades of being enjoyed and known by people the world over, kiwifruit — the ovoid, greenish fruit with brown skin once called the Chinese gooseberry — is being given a new mission by its Chinese hometown, Meixian county.
The county, in North China's Shaanxi province, will host a World Kiwifruit Conference from Oct 13 to Oct 15 to gather global experts, clients and to showcase its own advantages in this industry, according to a news conference held Thursday at the Great Hall of the People in Beijing.
"Out of every three kiwifruits, one is produced in Shaanxi province," said Wen Yinxue, Party chief of the agriculture department of Shaanxi province, during the conference.
A total of 1.3 million tons of Kiwifruit are produced in Shaanxi province each year and the growing area exceeds 1.03 million mu (68,666.66 hectares), making the province the largest concentrated plantation area for this fruit in the world, Wen said.
"To market Shaanxi's kiwifruit industry, it is decided that the World Kiwifruit Conference will be held in this province," Wen added.
The conference will have 10 activities, including an academic seminar and an export forum.
During the conference, the Royal New Zealand Institute of Horticulture, New Zealand's Zespri Group Limited, Northwest A&F University and the Shaanxi Fruits Bureau will sign a strategic cooperation agreement on kiwifruit technology.
Liu Zhande, a researcher at Northwest A&F University, said that as Qinling Mountains in Shaanxi province boasts plenty of wild kiwifruits, the province has cultivated 18 varieties.
Liu Jianfeng, vice-chief of the Meixian County Agriculture Bureau, told chinadaily.com.cn on the sidelines of the news conference it was in 1904 that Mary Isabel Fraser took wild kiwifruit seeds from China to New Zealand. After that fateful trip, kiwifruits became a key industry for that country.
"But Shaanxi's kiwifruits can be as tasty as New Zealand kiwifruits," Liu said. "The whole province has provided many supporting measures for this pillar industry, and major companies have spent a lot in research and development."
Ren Jianshe, general manager of Shaanxi Jinqiao Fruit Industry Co Ltd, told chinadaily.com.cn his company has exported kiwifruits worth $1 million to Russia in 2016, up from $300,000 when it first entered the market.
"But that accounts for only 5 percent of our revenue, and we expect to double our sales this year in Russia," Ren said.
He added that the company's export business had a good profit margin and he expected the World Kiwifruit Conference to bring new buyers.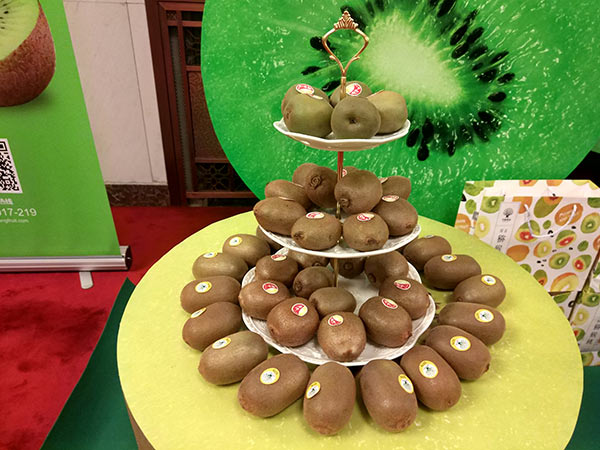 Kiwifruits produced in Shaanxi province are displayed at the Great Hall of the People in Beijing on Sept 21, 2017. [Photo by Song Jingli/chinadaily.com.cn]