Industrial output, investment, retail sales see slight fall in July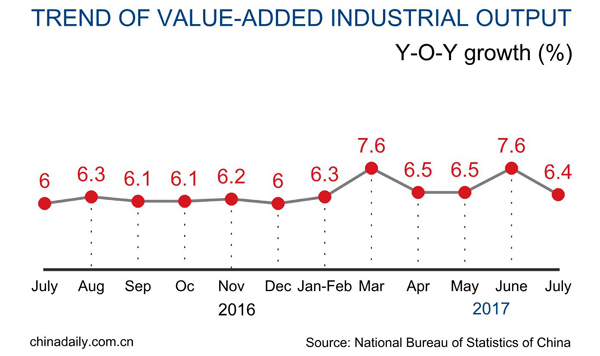 China's growth of industrial output, investment and retail sales fell slightly in July, according to the National Bureau of Statistics on Monday.
The country's industrial output growth stood at 6.4 percent year-on-year last month, down by 1.2 percentage points compared with June and 0.4 percentage point higher than last July.
Its fixed-asset investment growth rose by 8.3 percent year-on-year in the first seven months, 0.3 percentage point lower than the previous month and 0.2 percentage point higher than last July. But on a month-on-month basis, it rose by 0.6 percent, the NBS said.
Retail sales growth of the world's second-largest economy was registered at 10.4 percent year-on-year, 0.6 percentage point lower than in June. It rose by 0.2 percentage point compared with a year ago, the NBS said.
"On the whole, growth of the national economy remained stable in July," said Mao Shengyong, spokesman of the NBS. "The improving trend continues and structural adjustment is deepening," he said, adding that the international environment and domestic economic restructuring remain a challenge.