Consumers in driving seat of economic growth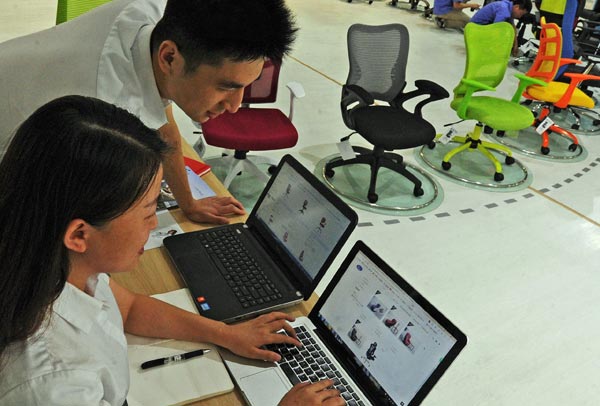 Employees of a chair-making company in Huzhou, Zhejiang province, check orders online. [Photo/Xinhua]
China has seen a strong consumption trend in the first half of this year, with the bricks-and-mortar retail sector making a comeback and e-commerce maintaining steady growth, the Ministry of Commerce said on Thursday.
Total retail sales reached 17.2 trillion yuan ($2.54 trillion) between January and June, up 10.4 percent year-on-year, making consumption the major driver of China's economy, accounting for 63.4 percent of economic growth, said Gao Feng, the ministry's spokesman.
According to the ministry, the retail sector has regained its momentum, with sales at major specialty and department stores increasing by 5.6 percent and 1.3 percent respectively over the past six months. Franchise outlets and convenience stores have showed stronger performance than others with 8.6 percent and 7.2 percent growth in sales respectively.
"When e-commerce first emerged, traditional retailers suffered," said Neil Wang, China president at the global consultancy Frost& Sullivan.
"However, through cost control measures such as closing unprofitable stores and adapting the concept of 'clicks and bricks', physical shops will embrace new growth points."
Wang said retail giants have been mapping out their strategy to embrace the age of new retail-the new mode of combining physical and virtual commerce-to cope with the challenges posed by online retailers.
While traditional retailers are making a strong comeback, Chinese shoppers' preference for online retail shows no signs of letting up.
According to Gao from the Ministry of Commerce, sales from online retail totaled 2.4 trillion yuan in the first half, up 28.6 percent year-on-year. The e-commerce sector accounted for 13.8 percent of total consumption in the first half, up 2.2 percent yearon-year.
The service sector also performed well in first half. Catering generated 1.85 trillion yuan in revenue, up 11.2 percent from same period a year earlier.
The tourism sector was also promising as the number of tourists have been growing, especially to famous spots such as Huangshan Mountains, Taishan Mountain and Lhasa, capital of the Tibet autonomous region.
Contact the writers at renxiaojin@chinadaily.com.cn