Housing price growth in key cities slows for ninth month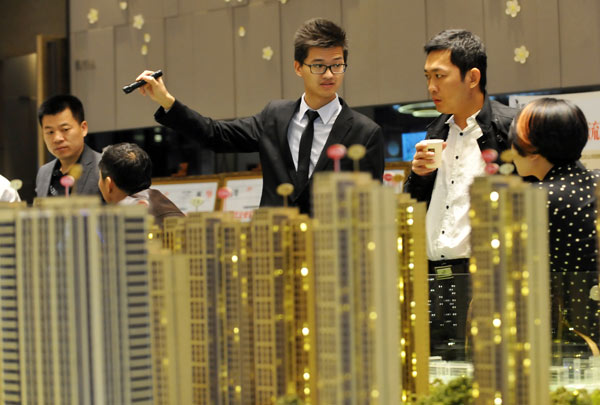 A salesman introduces a property project in Wuhan, Hubei province. [Photo by Miao Jian/For China Daily]
The growth of home prices in China's key cities slowed for nine consecutive months to end of June, with prices in the capital actually falling, as the country's moves to cool the residential housing market continued to gain traction, according to official data.
The National Bureau of Statistics reported that average home prices in Beijing fell for the first time in more than two years in June. It said Shanghai prices declined 0.2 percent month-on-month, while Shenzhen home prices stalled in June, and Guangzhou's grew 0.5 percent, which was lower than the 0.9 percent gain in May.
"China's 15 hottest property markets, mostly first and second-tier cities, remained stable in June as a city-based property policy continued to take effect," the NBS said in a statement accompanying the data.
The price growth of newly built residential properties in key cities in China slowed down in June, and home prices in some 90 percent of the 70 cities monitored saw month-on-month declines or stayed unchanged, according to the monthly report on home prices across China by the NBS.
Liu Jianwei, senior statistician at the NBS, said city-specific policies have been taking effect across China.
More than 40 cities have launched a wide range of measures to cool down overheating in the home market since October last year, including higher down payment requirements for buyers of second homes, and restrictions on reselling homes.
"On a year-on-year comparison, in all of the 15 key cities, including first-tier and some regional gateway second-tier ones, prices declined in June by somewhere between 0.8 percent and 5.5 percent," Liu said.
Liu added that compared with the previous month of May, home prices in nine cities dropped and prices in six cities gained, but growth in the latter was below 0.5 percent.
Smaller cities, however, are experiencing rising home price as buyers-who see residential properties as investable assets-switch from cities with home purchase restrictions to cities without the curbs, and developers also eye more affordable land parcels in lower-tier cities.
The statistics showed that 20 cities in June experienced new home price month-on-month growth of more than one percent, while 14 cities saw pre-owned home growth of more than one percent against May.
"All of these cities are lower-tier cities which are showing obvious spillover effects, " said Zhang Dawei, chief analyst with Centaline Property, the property services provider.
Zhang said in large cities, developers are also adjusting their strategies with some allocating more resources to leasing projects.
"High-end serviced apartments have continued to outperform the market, and we expect demand will grow as demographic changes in large cities show growing numbers of mobile, young talent who wish to stay in leasing projects instead of buying properties," said Francis Yeung, general manager of sales and marketing at real estate developer K. Wah China.