Nebraska has stake in beef exports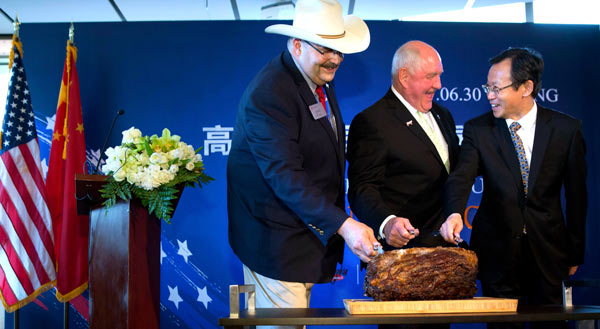 At the same event, US Agriculture Secretary Sonny Perdue (center) laughs with industry leaders Luan Richeng (right) and Craig Uden as they cut into a roast. [Photo/Agencies]
China's requirements are more stringent than those of other international destinations for US beef, according to a notice from the Iowa Cattlemen's Association to its members: Cattle must be less than 30 months of age, be born and raised in the US, Mexico or Canada, be free of growth hormones and feed additives and be slaughtered in the US.
"Everybody thinks that the potential is enormous, but we also realize that it's going to take patience. It's going to take time for this market to fully develop a little on its own," Cline said. "You just don't change people's diets dramatically overnight, but just the fact that we will be able to have our product available to them to try and increase consumption on a monthly to yearly basis, we're excited about the opportunity."
While the beef industry is excited to sell to China, sales are not expected to pick up pace right away, according to Joe Schuele, vice-president of communications of the US Meat Export Federation in Colorado.
"Currently, only a small percentage of US beef is eligible [for exporting to China]. The biggest challenge for US producers interested in serving the Chinese market will be to raise cattle that meet China's beef import requirements because meeting these requirements increases their cost of production," he said.
Schuele said that he expects beef exports to China will begin slowly but build over time as US producers raise more cattle that meet China's import requirements.
Data from the export federation indicate that Chinese consumers are interested in high-end steak cuts, but several beef cuts such as short ribs, short plate and chuck roll are also especially popular in Asia.
Terry Branstad, Iowa's former governor who is now US Ambassador to China, said in May that the resumption of US beef exports to China is "huge" and "something we've wanted for years and years and years".
Iowa has about 27,000 beef producers and exported $427.3 million worth in the first quarter of this year, according to latest figures from the Iowa Beef Industry Council.
Texas, with the most cattle in the US at 12.3 million head, is another state highly anticipating US beef trade with China. It exported just over $1 billion in beef and beef products in 2016 and is responsible for approximately one-sixth of all US beef exports.
"For us, any time we can move more product, it just adds value to what we're doing," said Robert McKnight Jr, one of the vice-presidents of the Texas and Southwestern Cattle Raisers Association.
"The Chinese market is a big market and we feel like we have a product that can compete and outperform any product in the world. We truly believe it is the best, safest product in the world we're producing here," he said.
Contact the writers at amyhe@chinadailyusa.com