Magic bricks work wonders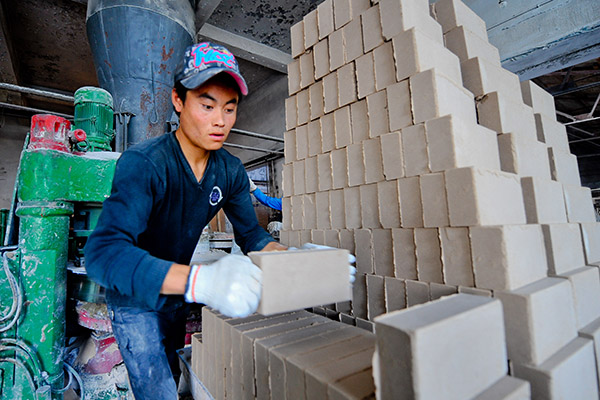 A worker at Naiman Banner Huaxin Silicate Products carries bricks inside the company's factory. [Photo/Xinhua]
Sand from Naiman Banner has turned the desert region into an exporting hub with high-tech industrial products
You might have just walked on "magic bricks".
If you stroll outside Beijing's National Aquatics Center, also known as the Water Cube, on a rainy day, you will notice something very different.
The water instantly drains through the paving stones, or bricks, before traveling through the drainage system below.
"Our bricks have been used in more than 500 projects in 13 municipalities and provinces," said Ye Haoqian, general manager of the Inner Mongolia Renchuang Ecology Environmental Protection Industry Co Ltd, which makes the paving stones. "They effectively solve the problems of urban flooding and disperse rainwater."
Inner Mongolia Renchuang Sand is based in Naiman Banner of Tongliao city in the Inner Mongolia autonomous region.
The high-tech enterprise turns silica sand into a coated substance, widely used in sectors such as oil exploration, construction and casting as well as paving stones.
Naturally, the price increases from about 300 yuan ($44.1) per metric ton for untreated sand to up to 6,000 yuan per ton for the coated product that has liquid-permeability properties.
This allows water to pass through without destroying the bricks or turning them into mush.
"With patented technologies, we are now planning to export our products to the United States, with annual productivity of 600,000 tons of specially-treated industrial sands," Ren said.
Still, the company is just one of 38 businesses involved in the industry in Naiman Banner.
Around one million tons of sand a year come from the region.
But then, the area is famous for it with the industry employing 2,000 workers, while annually revenue tops 2 billion yuan, according to local government data.
There are numerous grades of products, including building material sand, mechanical precision casting sand and glass making sand.
Since Naiman Banner is located at the heart of the Kolqin "Sand Land" that is hardly surprising. Up to 62 percent of the region is desert and it used to be one of the poorest areas in China.
Every year, villages used to be buried in sand, whipped up by the constant wind forcing residents to move out.
But in the 1980s scientists made an exciting discovery-Naiman Banner was rich in the finest silica sands with reserves of 50 billion tons.
With the building blocks of an industrial-scale production line, the government decided to develop the sector by rolling out the Angnai Sand Mine in 1984.
"Relying on the large reserves of silica sand, local government has developed the industry and turned what many saw as waste into wealth," said Zhu Zhenmin, deputy director of forestry bureau in Naiman Banner.
So far, there are six industrial parks and three of them are built on sand.
"We do not take over arable land when it comes to industrial development," Zhu said. "Sand has become a specific character in attracting investment."
Major Chinese companies, including Renchuang Sand, the largest in the sector, moved there from Beijing.
"By attracting well-known enterprises, we have introduced technologies and solved the problem of financing," Zhu said.
The central government has also helped to cultivate high-tech businesses by setting up research and development organizations.
Naiman Banner Huaxin Silicate Products Co Ltd has developed 21 new products and obtained 12 patents. It manufactures lime-sand bricks.
"Our annual sales revenue hit 30 million yuan last year with total asset exceeding 60 million yuan," said Pan Taiyan, general manager of the company.