World loves belt and braces approach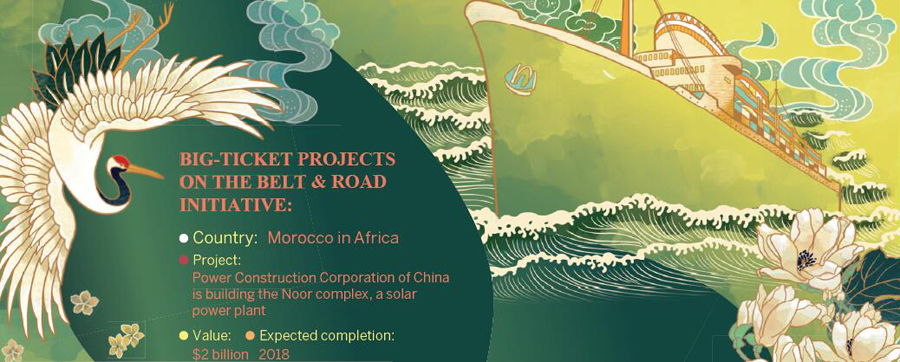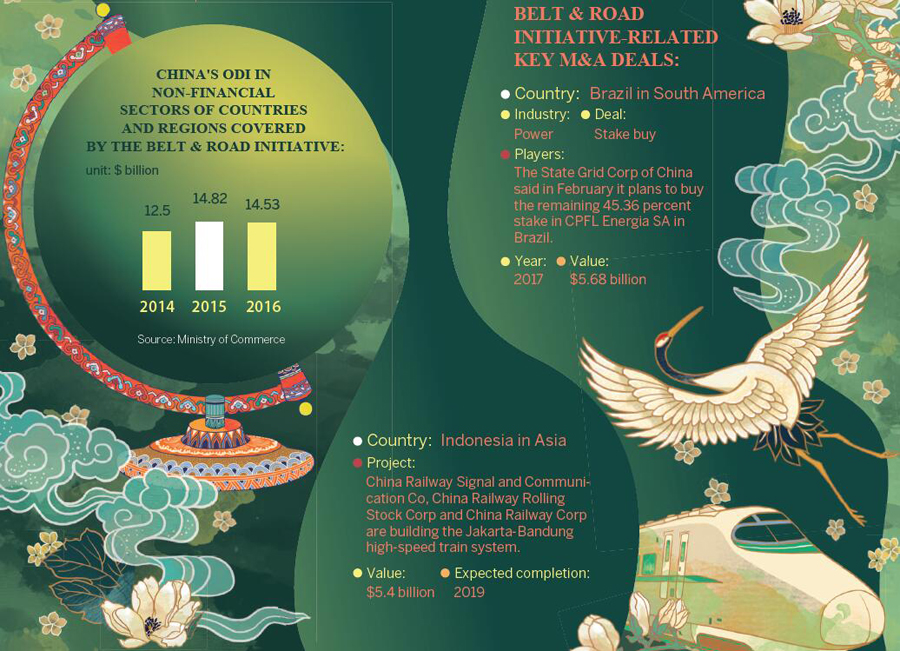 MA XUEJING/LI MIN/SU JINGBO/CHINA DAILY
Sustained focus on infrastructure overcomes perception that China's visionary drive for transcontinental development is an attempt at global dominance
The Belt and Road Initiative will continue to make emerging economies more competitive, narrowing the developmental inequity between landlocked countries and coastal regions, said business leaders and trade experts.
"Facts prove that China has become part of international efforts to pursue common development and common prosperity for countries and regions that need to gain new growth momentum via what they have and are good at," Yu Jianlong, secretary-general of the Beijing-based China Chamber of International Commerce, said.
And Yu contended that the initiative is not an attempt by China to exert its economic and political influence globally.
In 2013, China proposed the Silk Road Economic Belt and the 21st Century Maritime Silk Road to build infrastructure, service and trade networks connecting more than60countries and regions in Asia, Europe and Africa.
Known as the Belt and Road Initiative, it aspires to improve the lives of around 4.4 billion people or 63 percent of the world's population. The initiative has gained support from over 100 economies and international organizations, with nearly 50 cooperation agreements signed between governments since 2013.
From a global perspective, bilateral and multilateral cooperation projects for infrastructure and production capacity expansion have come to be the hallmarks of the initiative.
But, the initiative has been perceived in some quarters as China's attempt to rise as a 21st century global superpower.
"China has been deliberately accused by certain foreign media of practising neo-colonialism in some countries, exploiting energy resources and other minerals and supporting authoritarian regimes," said He Jingtong, a business professor at Nankai University in Tianjin.
"I think none of this holds water. If you look at history, tell me when has China been a colonial power? If it hasn't been in the past, why should it be now?"
He said there are areas, of course, where there might be competition with companies from developed markets; but there is also a desire to identify areas for cooperation.Unfortunately, that has not received much attention.
The launch of a series of big-ticket projects like the high-speed railway projects in Indonesia, port expansion work in Djibouti and nuclear power facility in the United Kingdom are all shining examples of the achievements under the initiative so far.
Many more such game-changing projects are in the pipeline.
China has invested more than $50 billion in economies covered by the Belt and Road Initiative, data from the National Development and Reform Commission show.
Argentine Ambassador to China, Diego Ramiro Guelar, said the South American country will increase efforts to develop its energy and transport infrastructure over the next 30 years, thanks in large part to the bilateral partnership and participation in the initiative.
"China has big companies and rich experience to push forward development in railways, roads, water conservation and energy in Argentina," Guelar said.
In terms of developing regional connectivity and infrastructure development, China is working in aviation, power, rail, road and telecommunications projects with participating economies. Chinese companies are also working with foreign partners such as Volvo Construction Equipment, United Technologies Corp and ABB Group to develop infrastructure in various economies covered by the initiative.
The focus on infrastructure development has been unswerving and all-encompassing.
China has pushed forward six economic corridors: the New Eurasian Continental Bridge, the China-Mongolia-Russia corridor, the China-Central Asia-West Asia corridor, the China-Indochina Peninsula corridor, the China-Pakistan corridor and the Bangladesh-China-India-Myanmar corridor.
Together, the six corridors form a trade and transport network across Eurasia, laying a solid foundation for regional and trans-regional development plans.
Terence Foo, co-managing partner for China of the London-based law firm Clifford Chance, said the initiative seeks to reinvigorate the trading routes between China and the others. It marries China's unparalleled strength in building infrastructure with the need for more roads,ports, railways and pipelines in many of the economies along the two trading routes.
The Asia Development Bank forecast that $8.2 trillion is needed for infrastructure investment in Asia over the next decade.
Similar studies conducted by the World Bank suggest there is still considerable scope for further increase in density of railroads in Eurasia.
"However, the path is challenging as it calls for investment in economies along a broad and varied geographical, economic and political spectrum," said Foo. "We found Chinese investors tend to be more patient to wait for longer-term returns.
"The boost to infrastructure connectivity is a priority under the Belt and Road Initiative, because infrastructure development will require a high degree of coordination among countries and regions, the private sector and the public, as well as vast investments of financial capital and material resources," said Zhang Quansheng, vice-president of Caterpillar China.
Zhang said it is necessary for governments, companies and other stakeholders engaged in activities generated by the initiative to have a clear understanding of the key factors driving success or failure in countries and regions along the two routes.
Undeveloped infrastructure poses a bottleneck to economic development in economies along the two routes, where obstructions to financial and trade activities create severe constraints on economic growth, according to a report released by the Beijing-based Chinese Academy of Social Sciences in March.
So, earlier this year, China began to spread public-private partnerships in countries and regions participating in the initiative, to facilitate the progress of projects. The idea is to minimize the risk caused by unfamiliar political, investment, security and legal environment and to broaden financing channels for companies.
China so far has established 75 overseas economic and trade cooperation zones in 35 countries and regions. These also helped create up to 950,000 jobs by the end of last year. These zones have paid more than $100 billion in taxes to governments in host countries over the past four years, according to data released by the Ministry of Commerce.