Young urban professionals get access to affordable housing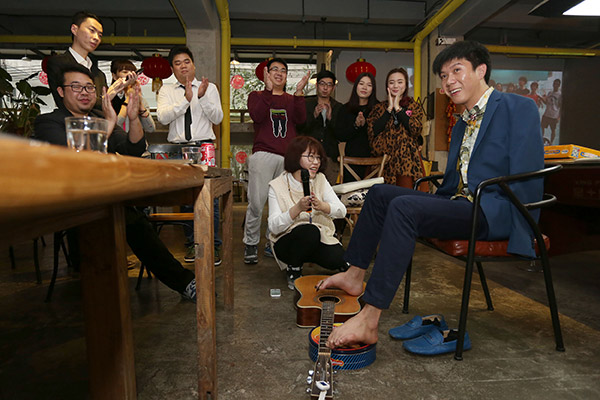 Liu Tao, an armless singer, plays guitar with his toes for young professionals of a startup who reside at the You+ international apartment in Guangzhou. [Photo/China Daily]
Flexible, affordable, and complete with community spaces for social networking, rented housing projects for young professionals are now common across China.
They are gradually taking away market share from the conventional rental market consisting of individual landlords and tenants.
When 25-year-old Zhang Haiyun first glanced at her new apartment, a 45-square-meter en suite in central Shanghai's Jing'an district, she could not believe that the rent for this well-decorated residence was just 2,000 yuan ($289) per month, only half of her previous rental of a simple room in an old building on the outskirts of the city.
Zhang is one of the employees included in a program that enables young professionals to live well in the city by renting affordable homes, a plan that is jointly subsidized by employers and the local government.
According to Zhao Zhengxiang, director of affordable housing projects with Jing'an district housing authorities, the affordable housing program of Shanghai Jing'an district housing authorities is one of the pilot schemes. It may benefit more than 700 young professionals in 2017.
"Programs like this actually leverage resources from various parties. Developers can expect long-term operations. Employers retain young talent through offering housing subsidies, and young professionals who are not able to buy apartments at current stage, can have access to decent housing. When the market offers more affordable housing, residents will have a wider range of choices," said Zhao.
A research note from Kaixin Capital Research said that China's long-term rented youth apartment market is expanding fast and had reached 2 trillion yuan by the end of 2016. Most of the properties are refurbished old buildings, or idle residential properties transformed into serviced apartments.
Investors backing these projects include investment banks, developers and large enterprises that need to offer affordable housing to a large number of young employees.
Some projects now have built up their brands, showing that the market starts to offer standardized, branded services, said a research report from the China Hotel Association.