Action vowed to curb rising home prices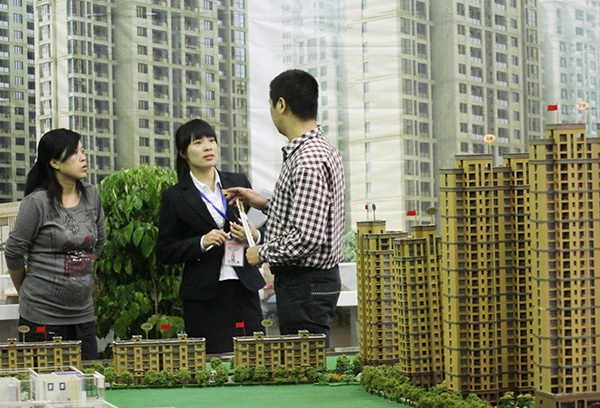 Potential homebuyers browse a real estate expo in Huai'an, Jiangsu province. [Photo by Zhou Changguo/China Daily]
Govt planning to cut excess housing, increase land supply in smaller cities
China will continue to cut excess property inventory in smaller cities while increasing land supply to rein in surging housing prices, Premier Li Keqiang said on Sunday.
The central government will implement tailored policies to address issues in the property market, Li said as he delivered the Government Work Report to the annual plenary session of the National People's Congress, the top legislature.
"There is still excess inventory in third- and fourth-tier cities, and the government will make efforts to support the residents' housing demands as well as the purchasing demands of people who move into the cities," Li said.
To ease the pressure of soaring home prices in some cities, Li pledged that the government will "reasonably increase" the land supply for housing in those cities while stepping up regulation on property developers and brokerages.
Sticking to the principle that "houses are for habitation, not speculation", the premier said the government will seek to establish a long-term mechanism to ensure the steady and healthy development of the real estate industry.
Setting up such a long-term mechanism will require the coordination of various policies, including financial, land, fiscal, tax and investment policies, as well as legislation, according to analysts.
Jia Kang, director of the China Academy of New Supply-side Economics, said property tax would be an important component to a sound long-term system for the property market, as it would help curb speculation and sharp price fluctuations.
Li Daokui, an economics professor at Tsinghua University, added that local authorities should use funds raised through land sales to balance supply and demand in the property market.
"A government should use a portion of its revenue from land sales to buy a certain amount of residential properties and offer them for rent, so that it can have the ability to adjust an unbalanced market," the professor said.
On Sunday, the premier said the central government will continue to renovate rundown urban areas, as there are still tens of millions of people living in poor conditions, and will provide 6 million housing units in such areas this year.
According to the 2017 draft plan for national economic and social development, the government will also make further efforts to provide direct financial housing compensation and move faster to implement a plan to grant urban residency to 100 million people living in urban areas.