New era, new chances for China's courier service sector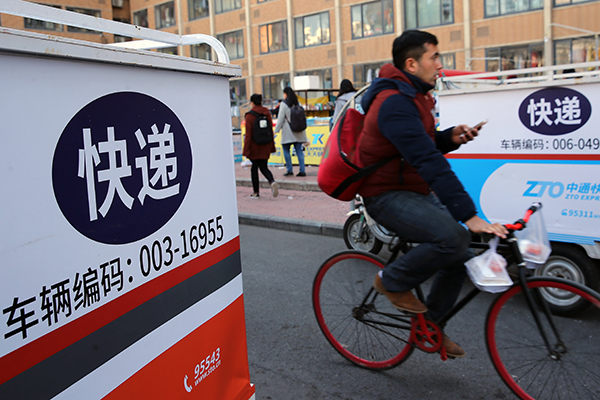 Express-delivery tricycles with eight-digit registration numbers are seen in Beijing on Dec 2, 2016. [Photo/China Daily]
BEIJING - China's courier service sector entered a new era with the listing of all major players, Ma Junsheng, head of the State Post Bureau (SPB), said in an interview with Xinhua.
While the overall prospects for the sector are excellent, Ma pointed out some problems and called for efforts to turn challenges into opportunities.
The next tera-yuan industry
The year started with a big bang for couriers, which posted a year-on-year revenue growth of 6.2 percent, collecting 31 billion yuan ($4.5 billion) in January.
On Feb 24, the listing of SF Express on the Shenzhen Stock Exchange made it the last of the top five private courier services to go public. Its share price then rose for five consecutive days.
"With more capital, the industry enters a new stage of competition and will embrace a shake-up in structure," Ma said. "Giants with all-round capabilities and reaches will emerge."
He called these the "aircraft carriers" of the sector, technology-laden heavyweights with high risk resistance, offering quality services without damaging the environment.
China has about 19,000 courier companies, most of which are vulnerable small businesses in a fragmented market. Capital inflow is revving up competition and forcing out players. SF Express, backed by the capital market, is likely to become China's answer to global leader FedEx.
By 2020, China expects to have become the world's largest express delivery market with a business revenue of 800 billion yuan. Powerhouses able to generate over 100 billion yuan a year will emerge, and the country will be home to at least two leading world brands.
Courier delivery, buoyed by prospering online shopping in rural areas and cross-border e-commerce, should be the next sector worth over a trillion yuan.
Billionaire and foot-soldier
Following the listing of SF Express, photos of an ordinary courier standing next to the company's founder Wang Wei went viral on the Internet.
In April 2016, the young man was assaulted by a man in Beijing after his electric tricycle struck the man's car. Flanking himself with an ordinary delivery boy, Wang, one of the country's richest men, earned himself a groundswell of plaudits.
"The happiness and sense of belonging of delivery men must not be neglected," Ma Junsheng said, hailing Wang's respect for the rank-and-file.
The event also cast light on a sector which relies on a vast legion of low-paid workers whose trips, mostly by scooters and tricycles, keep China's e-commerce revolution on track.
"They lack a sense of security and turnover is high," Ma said, recalling his visits to local courier service stations over past months. "Employers must improve pay and benefits."
Tomorrow's highlights
China's courier service sector has expanded by 50 percent in each of the last six years, which has brought new challenges.
The sector is heavily dependent on e-commerce, with 65 percent of parcels generated by online shopping, said Zhao Guojun with Beijing University of Post and Telecommunications.
That reliance has meant a price war and squeezed profit margins, ultimately encroaching on the welfare of grassroots workers, said Xu Yong, an industry analyst.
As the reshuffle continues, profit margins will further drop. Gross profits have plummeted from 30 percent in 2007 to below 10 percent. Besides, the sector needs to better integrate itself with manufacturing and agriculture, Ma said,
"The industry needs reform and innovation to turn today's difficulties into tomorrow's highlights," he said.