China's expanding manufacturing activity points to stabilizing economy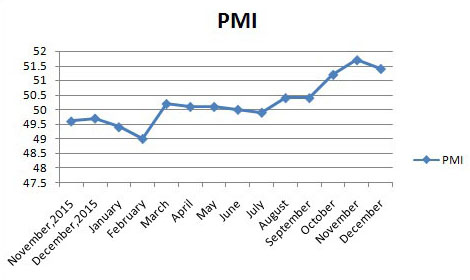 BEIJING - China's manufacturing activity expanded for a fifth month in December, pointing to a stabilizing Chinese economy.
The manufacturing Purchasing Managers' Index (PMI) came in at 51.4 in December, lower than 51.7 in November and staying above the 50-point boom-bust line for the fifth straight month, the National Bureau of Statistics (NBS) said in a statement.
This is the second highest monthly reading this year.
Despite the slight decline in December, the latest data reaffirmed the momentum for a stabilizing Chinese economy, said Zhang Liqun, a researcher with the Development Research Center under the State Council.
The sub-index for production registered at 53.3, low than 53.9 in November.
The sub-index for new orders stayed at the same level as the previous month, the highest point this year. The NBS said this signalled demand in the manufacturing market maintained relatively fast growth.
A lower production sub-index and a stable new orders sub-index means a better equilibrium between production and demand, said Zhao Qinghe, senior NBS statistician.
The sub-index for new export and import orders stayed above the boom-bust line of 50 for a second month, the NBS said.
Chen Zhongtao, analyst at the China Logistics Information Center, said positive factors had added up in China's economic activity, including increasing demand, rising prices, better performance for companies, restructuring and a good job market.
Components of the manufacturing PMI showed the higher quality of China's manufacturing industry.
PMI for high-tech manufacturing registered 53.8, the highest this year, and higher than the overall manufacturing industry, said Zhao.
On the other hand, energy-intense sectors dropped to 49.8, below the boom-bust line, as efforts to fight pollution have dented production, said Zhao.
Consumer goods manufacturing also outperformed other sectors, especially as Spring Festival is approaching.
PMI for sub-sectors of consumer goods manufacturing, including food and beverages, tobacco, pharmaceutical and automobiles, all stayed higher than 53, said Zhao.
The NBS also warned about rising raw material prices and transportation costs facing some manufacturers.
Raw material prices increased for six months in a row to the highest level this year, while transportation costs jumped five months in a row, further eating into manufacturers' profit, said Zhao.
Meanwhile, small companies are doing much worse than larger ones, with small business PMI dropping to 47.2 from 47.4 in November, compared to large enterprises' 53.2. Zhao pointed to financing difficulties as a major hurdle for small businesses.
China's non-manufacturing activity also expanded at a fast pace in December, second only to November this year, the NBS data showed.
Cai Jin, deputy head of China Federation of Logistics and Purchasing, said non-manufacturing PMI had stayed above 54 for a third month, pointing to a stable and booming non-manufacturing sector.
On a quarterly basis, manufacturing PMI had been rising steadily, from the first quarter's lower than 50 to the second and third quarters' slightly above 50, and to over 51 for the fourth quarter.
The PMI for the whole year averaged at 50.3, compared to 49.9 for 2015.
Judging from the PMI throughout the year, the downward pressure facing the Chinese economy has been easing, laying a good foundation for economic growth in 2017, said Cai.
China's GDP grew 6.7 percent in the first three quarters of 2016, and the fourth quarter is expected to come in close to that figure when results are released later this month.