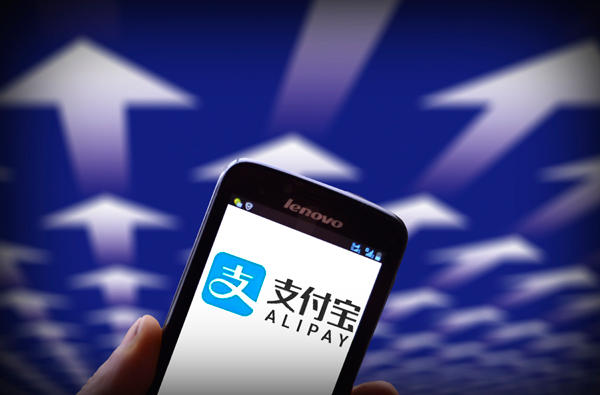 An app of Alipay, China's biggest third-party payments platform, on a mobile phone. [Photo/VCG]
Alipay, one of China's most popular mobile payment apps, took a big step toward globalizing its services when it secured a third-party payment license in Hong Kong on Aug 25.
With this stored value facilities license, Hong Kong users can now use Alipay's e-wallet functions and enjoy merchant discounts.
Although Alipay has been in the Hong Kong market since 2007 and already works with about 6,000 merchants, including department stores, hotels and theme parks, its usage has largely been limited to mainland users due to Chinese central bank regulations, which allow only people with a bank card issued in the Chinese mainland to store credit in their accounts.
Peng Yijie, vice-president of Ant Financial, a subsidary of e-commerce giant Alibaba that operates Alipay, said the company is eager to bring the cashless experience to Hong Kong, given the southern city's close connections with the mainland.
Alipay was started in 2004 and now offers payment services at more than 80,000 overseas offline stores in 70 countries and regions.
The company also cooperates with ride-hailing app Uber in 69 nations and regions as well as Airbnb.
In August, Alipay reached an agreement with Munich Airport that allows Chinese tourists to make payments at the airport terminals by scanning an Alipay QR code on their mobile phones. Munich Airport is the first in Europe that supports payment services by Alipay.
The payment services provider has also signed agreements with a slew of physical stores, including upscale French department store Galeries Lafayette in Paris. According to the deal, Alipay will be available only to Chinese tourists.
Statistics provided by Ant Financial showed that among the more than 50 nations and regions that offer departure tax refund policies, 24 of them support Alipay. The majority of those countries are key overseas destinations for Chinese travelers.
In addition to Alipay, Ant Financial's other businesses are also making their way over China's borders.
In February 2015, Ant Financial became a shareholder in Indian online payment platform Paytm.
After more than a year of development, users are now able to use the Indian version of Alipay to pay for rides in tuk-tuk taxis, and make payments at cafes, gas stations and movie theaters.
According to Ant Financial, the number of Paytm users soared more than fivefold from 20 million in February last year to the current 135 million, becoming the world's fourth-largest e-wallet.
In November, Ant Financial and Korean Telecom launched K Bank, the first internet bank in South Korea.
"As a pioneer of China's inclusive financing industry, Ant Financial looks to showcase China's prowess to the world," said Jing Xiandong, the company's president.
He added that he believes China's financing sector will play a big role in reducing poverty and helping to promote social equality globally.