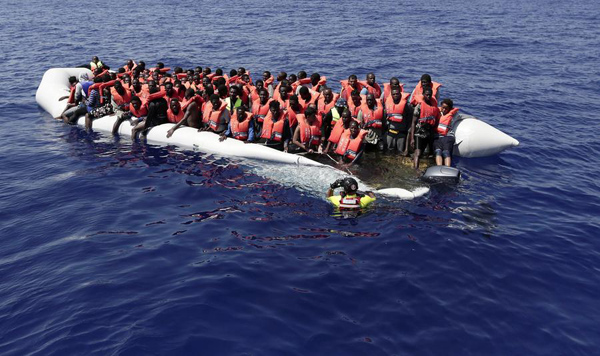 Migrants are rescued during a MOAS operation off the coast of Libya August 18, 2016 in this handout picture courtesy of the Italian Red Cross released on August 19, 2016. Picture taken August 18, 2016. [Photo/Agencies]
The European Union's executives say they are resolved to ensure the G20 Leaders Summit in Hangzhou will be another important milestone in strengthening the global economic recovery, while urging the global leaders to put the refugee crisis at the top of the agenda.
In a joint letter to the member states on Tuesday, European Commission President Jean-Claude Juncker and European Council President Donald Tusk, both of whom will fly to China soon, highlighted the key issues that will be discussed at the G20 summit on 4-5 September.
Saying the EU looks forward to discussing key international challenges with its G20 partners in Hangzhou, the two leaders said the G20 should continue playing a role in tackling the international refugee crisis.
"We will call for scaling up of humanitarian and development assistance, resettlement, support for refugees and their host communities through international financial institutions and tackling irregular migration," the letter was cited.
"The G20 has the expertise to make practical contributions through trade, development cooperation and refugees' access to education and job opportunities."
Juncker and Tusk also underlined the importance of a credible narrative for sustainable and inclusive growth, which puts to work all available policy tools – monetary, fiscal and structural, as the global outlook remains uncertain and many citizens still do not feel the benefits of growth.
They said a key target for delivery will be the G20 Hangzhou Action Plan and updated Growth Strategies.
"We will call for accelerating the implementation of these strategies, keeping in mind the objective the G20 set in Brisbane to lift global growth by 2 percent by 2018," they said in the letter.
They said there are strong synergies between the investment priorities of the EU and the G20.
They added that the European Fund for Strategic Investments is firmly on track to deliver the objective of mobilizing at least 315 billion euros in additional investments in the real economy by mid-2018, having already reached more than 100 billion euro in new investments.
Other points the two leaders have mentioned in the letter include:
- The G20 countries need to stand together in combatting the financing of terrorism.
- Financial regulatory reform needs to remain high on the G20 agenda.
The G20 will discuss how to reverse the slowdown in the growth of trade and foreign investment. Urgent and effective action is needed to cut overcapacity in the steel and other sectors, including by tackling subsidies and other market-distorting measures that have contributed to it.
The summit will endorse a G20 Action Plan on the 2030 Agenda for Sustainable Development outlining the collective contributions of the G20 to poverty reduction and sustainable development.
To contact the reporter: fujing@chinadaily.com.cn