Meeting addresses real estate challenges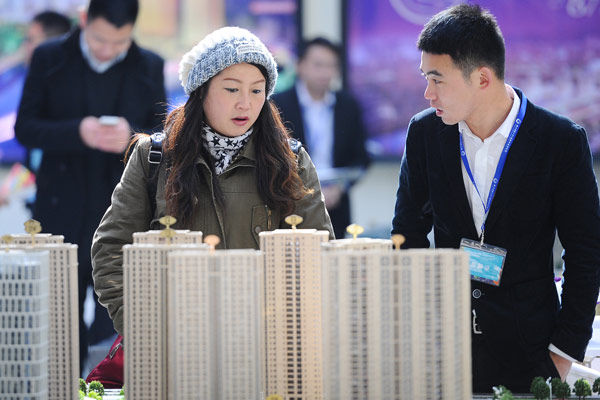 A woman talks with a salesman at a property market fair in Hangzhou, Zhejiang province.[Photo/China Daily]
China will strictly limit credit flowing into speculative buying in the property market in 2017, according to the Central Economic Work Conference statement issued on Friday.
"Properties are for residential use, not speculation", the statement said.
The country will speed up efforts to build a long-acting mechanism for stable and healthy development of real estate, and planners will employ multifaceted policies involving financing, land, fiscal investment and legislation to curb a housing bubble as well as wild volatility in real estate, the statement said.
Financing must be put under control, and on the micro level, financing policy has to support the reasonable purchase of housing for self-use and strictly reduce financing flowing to speculative buyers, the statement said.
Legislation for the real estate leasing market should be speeded up, and the development of institutional, large-scale home leasing businesses should be accelerated. The housing market will be better regulated, including development, distribution, and agents, Premier Li Keqiang said.
Analysts said a "long-term mechanism" is expected to focus on joint efforts involving fiscal, taxation and credit policies, as well as legislation to create an ecosystem that enables the real estate market to serve its original purpose of providing housing.
"Only with a long-acting mechanism will the real estate market attain a fundamental condition that will enable top-tier cities to decrease speculation and lower-tier cities to decrease inventories", said Ni Pengfei, a researcher at the Chinese Academy of Social Sciences.
A long-term mechanism for the healthy development of the Chinese real estate market that looks at supply, demand, finance and taxes is essential. The current curbs and financial restrictions only treat the symptoms of underlying imbalances within the market. A more comprehensive and long-term, multifaceted approach to treating the root causes of these imbalances is what is needed for the sustained, healthy development of the market," said James Macdonald, head of Savills China Research.
More than 20 cities in China have launched a series of short-term curbs on purchases and have tightened financing to limit speculative buying and slow hurdle too-fast-growing housing prices.
Policymakers may also look at other tools to change the diverging situation with excess inventories in lower-tier cities and short supply of housing in key cities. That could be achieved by encouraging population flows, creating more job opportunities and enhancing living standards in lower-tier cities, and using transportation infrastructure to develop satellite cities.
"Young professionals living in serviced apartments pay monthly rent instead of a huge sum for the down payment on an apartment. This shows how infrastructure helps to reshape housing market conditions", said Liu Yueqi, manager with Shanghai Feng Rui Real Estate Ltd.