China halts corn reserve purchasing to let price float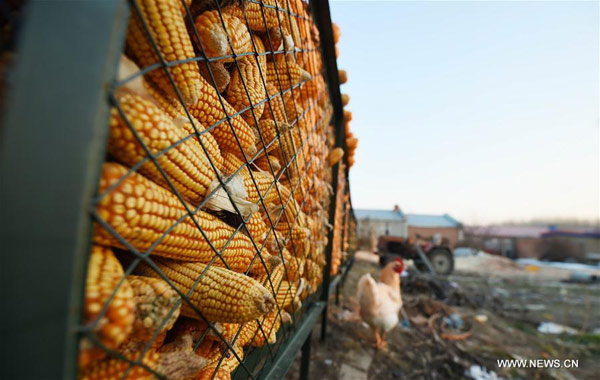 Photo taken on Oct 31, 2016 shows corn cobs stored in a special container at Changping village of Changwu town in Zhaodong, Northeast China's Heilongjiang province. [Photo / Xinhua]
HARBIN - The corn harvest is in full swing in north China. This year, however, the government ceased its corn reserve purchasing program, which had protected the corn price to ensure farmers continue to grow the staple grain, causing the corn price to drop.
At a grain market in Jiamusi, a city in the northeastern province of Heilongjiang, buyers can purchase corn for between 1,240 yuan ($183) and 1,320 yuan per ton, which is roughly 500 yuan less than the same period last year.
"The recent changes to the corn reserve and purchasing program have driven down the price," said Shi Guimin, general manager of Beidahuang Grain Group, an affiliate of Heilongjiang grain department.
The northeastern region of China - comprising the provinces of Heilongjiang, Jilin and Liaoning - produces half of all the corn grown in the country.
Liu Xiaonan, deputy director of the economic and trade department under the State Development and Reform Commission, said at a press conference in April that from this year the government would start to make adjustments to the nine-year-old corn reserve purchasing program to mold it into a more market-oriented program.
China, home to 1.3 billion people, maintains substantial grain reserves over food security concerns.
However, excessive grain inventory and the former rigid pricing mechanism have resulted in waste. The central government has issued different policies for different produce to better balance grain pricing and reserves.
"Generally, the direction we are trying to steer the grain reserve system down is a market-orientated pricing path, where prices and subsidies are separate," said Chen Xiwen, deputy head of the central agricultural work leading team.
China's national reserve contains 125 million tons of corn harvested in 2015, as well as 150 million tons of corn from 2014.
The manager of Beidahuang Grain Group said China's high inventory and increased corn production abroad have combined to drive down the market price of corn.
"Previously, we would have purchased corn for the national grain reserve at the fixed purchasing price set by the government. There was nothing to worry about," said Xie Mingdeng, general manager of Xinhang Grain Trading Co Ltd in Tangyuan county, Heilongjiang.
However, with the policy no longer in place this year, the majority of grain traders, like Xie, decided to wait and see how the market would change the price.
"We will focus on trading rice instead of corn this year," he said.
On the plus side, according to Li Guoxiang, a researcher with the China Academy of Social Sciences, the falling domestic corn price would result in less imported corn entering the country.
The International Grains Council on Sunday raised its forecast for the 2016/17 world corn crop to a record-high 1.035 billion metric tons, boosted by upward adjustments for the United States, Argentina and India. The intergovernmental body also increased its forecasts for wheat and total grains to record levels, with global stocks expected to climb.