New rules reduce property speculation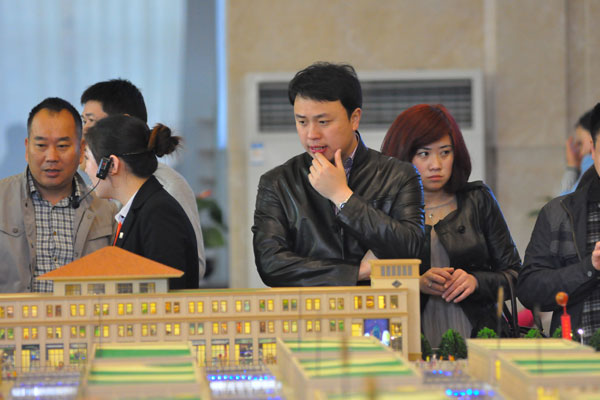 A man inspects a property model display in Rizhao, Shandong province, on Jun 14, 2014 . [Photo provided to China Daily]
BEIJING - Fresh property curbs in China have led speculators to put property purchase plans on hold, cooling a hot housing market.
An investor surnamed Hu, from central China's Henan province, already owns two apartments in Zhengzhou, but is now hesitating to buy a third, after local authorities rolled out a series of measures in early October to cool the property buying frenzy.
"There might not be much room for further price increases," Hu said. "I would rather wait and see the policy effect."
In Zhengzhou, new home prices went up 7.6 percent in September month on month, but growth slowed to 4.3 percent in the first half of October, according to the National Bureau of Statistics (NBS).
Thanks to government curbs, the daily average sales of new homes in the city plunged 61 percent in the first 10 days of October compared to September.
Since late September, a wave of property restrictions introduced to several cities across the country has reversed market expectations, cooled speculation and reduced transactions.
Price rises in 15 first and second-tier cities have retreated, the NBS said last week, citing market data for the first half of October.
In Beijing, the year-on-year growth rate of residential property transactions in the first 16 days of October slowed by 29.3 percentage points from September, according to local government statistics.
In Suzhou, Jinan and Xiamen, less affluent cities that had seen home prices surge in the past months, new home sales slumped over 70 percent in the period Oct 10-16 when compared with the weekly average of the previous three months, according to real estate agent Centaline Property.
The property market is apparently losing steam, said Zhang Dawei, analyst of Centaline Property, who cited an approximately 40 percent decline in sales this month in most of the 33 cities the company monitors.
More and more buyers will take a wait-and-see approach, ending rapid price increases and resulting in price drops in some regions in the fourth quarter of 2016, Zhang said.
Ren Xingzhou, a researcher with the China Marketing Association, attributed the market reverse to a change of expectations among buyers, who used to assume house prices would stay on the fast track and scrambled to join the investment boom.
As home prices soared in the past few months, many cities saw panic buying from people who feared falling behind on the path to property riches, as well as the rise of "fake divorces," whereby couples divorced on paper so they could avoid house purchasing restrictions.
In response, some cities started to tighten purchase limits for single residents, including divorcees, in the latest round of curbs.
Other restrictive policies include higher downpayment requirements and stricter mortgage conditions, especially on purchases of second apartments.
"The main purpose of the latest property curbs is to contain speculative demand in the market, and to help the sector return to its function of providing places for people to live," Ren said.
Tougher restrictions will also help avert credit risks, according to Ren.
A credit binge is behind the recent property boom. Loans from financial institutions to the real estate sector soared 25.2 percent year on year to 25.33 trillion yuan ($3.74 trillion) by the end of September, mostly lent to individuals, according to central bank data.
China's banking watchdog on Friday warned of financial risks related to the property sector, calling for efforts to ban illegal inflows of loans and wealth management funds to the sector.
Alongside government restrictions, routine voluntary credit tightening at year-end by commercial banks will help send home transactions to lows by the end of the year, said Guo Yi, analyst with Yahao Real Estate Selling & Consulting Solution Agency.
In the longer term, the property market trend will remain largely influenced by the country's future monetary policy stance, Guo said.
The latest home price surges came after two years of progressive policy easing, starting with the relaxation of purchase restrictions in 2014. The momentum was further fueled by the government's pro-growth policies, including interest rate cuts and lower deposit requirements.