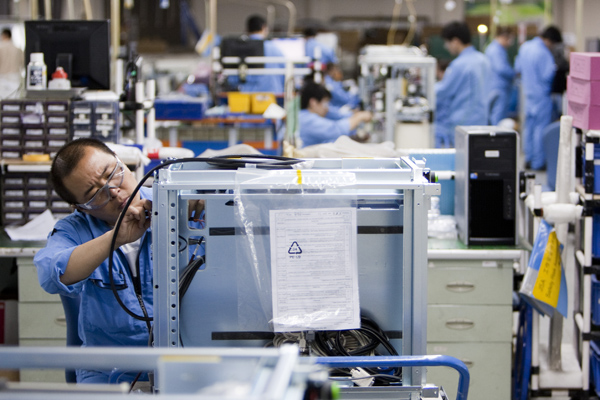 Employees at the General Electric Co healthcare unit's production facility work to assemble medical X-ray devices in Beijing. [Photo/Bloomberg]
Editor's note: Three years ago, President Xi Jinping launched China's ambitious Belt and Road Initiative, to link vast transcontinental swathes with a common economic thread. The initiative brought unprecedented opportunities to companies worldwide to expand their business and access new markets. Beginning today, China Daily will present a series of interviews with top executives of foreign companies, looking at the impact of the initiative on their operations as well as markets. In the first in the series, John Rice, vice-chairman of General Electric, looks at the transformation of the manufacturing sector.
General Electric's total orders from Chinese engineering, procurement and construction companies are set to top the $2 billion mark this year as a direct result of the Belt and Road Initiative, said senior executives of GE.
"The Belt and Road Initiative is a multi-win strategy because it is significant for the economic growth of countries along the Belt and Road, and the transformation and upgrading of the Chinese manufacturing sector," said GE Vice-Chairman John Rice in Beijing.
Rice said GE would support the Belt and Road Initiative and endeavor to be Chinese EPC companies' best partner by investing in technology, services and global resources.
This year's orders are almost three times the amount last year, and around 40 percent of the equipment will be made in China.
"The Belt and Road Initiative is a main reason for GE's growth in orders because the national strategy brings Chinese EPC companies and funds to countries along the route," GE China CEO Duan Xiaoying told China Daily.
GE China announced in June that its strategy for the next five years would focus on comprehensive localization, helping Chinese find global partners, and reach digitization.
Duan added that GE is transforming from an equipment supplier to an integrated solution provider. GE will work with Chinese EPC companies to develop the early-stage market and not only bring equipment, but also financing and operations.
"We have set up a financing team specially for the Belt and Road Initiative," said Duan.
She said the team would be responsible for obtaining loans from the Chinese government and banks as well as funds from private equity investors, and then connect these with GE's project teams around the world.
"We are positively seeking cooperation with the Asian Infrastructure Investment Bank and we hope our first cooperative program can be reached next year," said Duan.
According to Jay Ireland, CEO of GE Africa, the company has also set up a $1 billion infrastructure fund in Africa to help finance projects on the continent.
Ireland said one-third of Chinese EPC companies' equipment orders with GE this year are destined for projects in Africa.
"Africa's infrastructure projects are developing rapidly benefiting from the Belt and Road Initiative," said Ireland. "We have close cooperation with Chinese EPC companies in the electric power, railway and healthcare sectors."
Duan said thanks to the Belt and Road Initiative, Africa is the market offering the greatest potential for GE and Chinese EPC companies, followed by the Middle East, South Asia, Southeast Asia and Latin America.
He Yafei, former deputy foreign minister, said the Belt and Road Initiative is being carried out to improve the global economy and companies should understand the strategic meaning before seeking related opportunities.