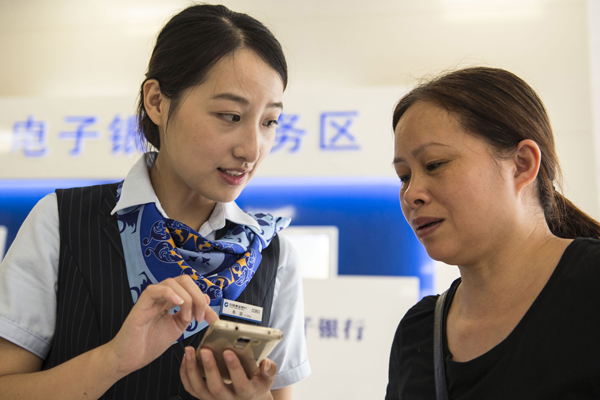 An employee of China Construction Bank helps a client at a branch in Haian, Jiangsu province. CCB has set up 29 overseas branches in 27 countries and regions. [Photo by Xu Jinbai/For China Daily]
China Construction Bank Corp took another step forward in its globalization drive by completing the acquisition of a majority stake of PT Bank Windu Kentjana International Tbk.
Earlier this year, the second-largest Chinese commercial lender by assets received approval from Chinese and Indonesian regulators for the acquisition of a 60 percent stake in Jakarta-based Bank Windu.
Listed on the Indonesia Stock Exchange, Bank Windu has a network of 82 offices throughout Indonesia. As of the end of 2015, its total assets hit 10.09 trillion Indonesian rupiah ($779 million) and total liabilities reached 8.68 trillion rupiah.
The bank also holds a 100 percent stake in Surabaya-based PT Bank Antardaerah, which has 30 offices across Indonesia and a stronghold in small and medium-sized enterprises.
China and Indonesia have developed close economic, trade and investment relations. Last year, trade between the two countries reached more than $54 billion.
The CCB said on Thursday after becoming the controlling stakeholder of Bank Windu that it will enter the Indonesian market to develop business and enhance its ability to provide services in global financial markets. Based on the existing business of Bank Windu, the CCB will offer quality financial services to Chinese and local corporate and individual clients in infrastructure project financing, trade financing and the renminbi business.
The CCB made huge progress in its overseas expansion during its transition toward innovative smart banking with comprehensive businesses and diversified services, as Chinese banks are facing the pressure of economic restructuring, interest rate liberalization and the impact of internet finance.
Wang Hongzhang, chairman of the bank, said earlier that the bank developed a plan for overseas development in 2012, making comprehensive arrangements for the bank's global expansion, training and business development.
"At the same time as doing business with the joint efforts of overseas and domestic branches, the CCB also insists on doing business locally," Wang said.
So far, the CCB has set up 29 tier-one overseas branches in 27 countries and regions. As of the end of June, the total number of overseas institutions of the bank exceeded 140.
Its total assets of overseas commercial banks were 1.34 trillion yuan ($201 billion), up by 12.85 percent over the end of last year. The net profit of its overseas commercial banks was 2.91 billion yuan, a year-on-year increase of 31.6 percent, according to its interim results announcement.
Guo Tianyong, director of the research center of the Chinese banking industry at the Central University of Finance and Economics, said it is inevitable for Chinese banks to go global, and each bank should find the right path that is most suitable for its business development.