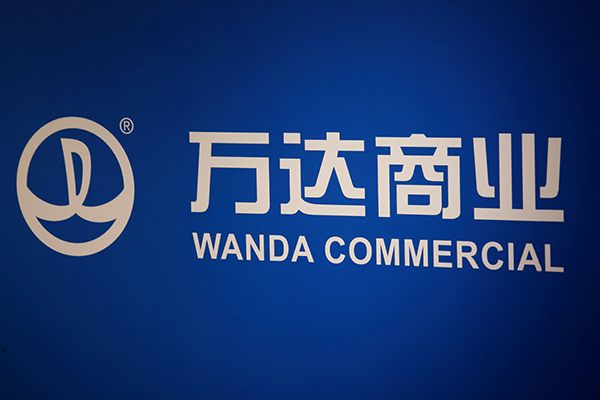 The company logo of Dalian Wanda Commercial Properties Co Ltd is displayed at a news conference on the company's annual results in Hong Kong, China, March 24, 2016. [Photo/Agencies]
China's Dalian Wanda Commercial Properties Co Ltd said on Monday one of its largest shareholders intends to approve the developer's Hong Kong delisting proposal, as it aims to dispel uncertainty over whether the proposal can gain sufficient votes.
In a stock exchange filing, Wanda Commercial said China Life Insurance Co Ltd - which owns around 7.4 percent of its Hong Kong shares - has sent a letter of intent favoring the delisting.
China Life is joint largest shareholder of the developer's Hong Kong shares, along with the Kuwait Investment Authority.
Wanda Commercial will seek shareholder approval on Aug 15 for its plan to delist, after parent Dalian Wanda Group - owned by China's richest man, Wang Jianlin - offered $4.4 billion in cash to take the developer private before relisting it in China in the hope of better valuations.
To gain approval, the proposal needs at least 75 percent of shareholder votes in favor, and no more than 10 percent of shareholders voting against it.
Analysts have questioned whether some investors such as BlackRock Inc - which is estimated to have accumulated almost 7 percent of Wanda Commercial stock at an average price of HK$52.44 - would be willing to vote in favor.
Timing Investment, a cornerstone investor holding around 2.5 percent, told Reuters last month it would approve the plan though the offer price is below the expected 15 percent premium to the firm's initial public offering (IPO) price.
"It's not as good as expected, but we need to approve. If the buyout gets blocked, Wanda won't be able to propose taking it private again for a year, and the share price will once again be on a downtrend," Timing's Chairman Jiang Ming said.
Dalian Wanda's buyout offer is HK$52.8, 10 percent higher than the IPO price of HK$48. Shares of Wanda Commercial closed down 0.5 percent at HK$47.55 on Monday, reflecting investor concern that the deal may not go through.