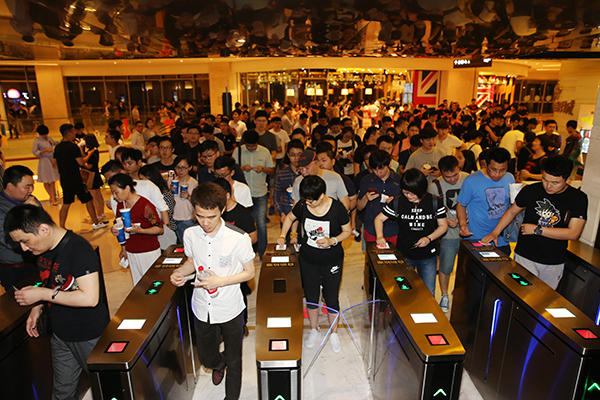 Chinese gaming fans wait to enter a cinema screening the film Warcraft in Hefei, Anhui province. [Photo/China Daily]
'Internet super celebrity' paves way to culture of intellectual property creation
In sharp contrast to North America, where the film Warcraft got a bad rap, and Europe, where it was branded a box office failure, the film turned out to be a blockbuster in China.
When Warcraft-the film adapted from online game phenomenon-debuted in China on June 8, records were vanquished.
Box office receipts for the film had topped a record 1.4 billion yuan ($209 million) by June 26. Massed ranks of young WoWers-World of Warcraft (WoW) devotees-also drove Chinese records for the number of cinemas showing the film, multiple viewings and other movie statistics.
A cinema statistics platform showed 1.25 million Chinese watched the film on June 8. Their average age was 28.7, and 61.7 percent of them were aged 26 to 35.
He Shuai, a 27-year-old WoWer, booked his premiere ticket a fortnight in advance.
He went to the cinema in Beijing's Sanlitun district after midnight on June 8, and found other fans armed with game props, wearing cosplay costumes or tee-shirts with official logos. "It was like a festival," he said. He soon found his friends by the symbol for "Horde" on their backpacks.
The game is based on a war between the two opposing camps: the Horde and the Alliance. Cinemas flew the blue Alliance flag and the red Horde banner in their halls and divided seating into blue and red sections.
He Shuai began to play Warcraft in 2009. Despite long absences from the game, he has kept up to date with each new version. "It's like an old friend whom I am free to contact or not, but I never forget him," He says.
For many WoWers, Warcraft is an integral part of their youth. Players form friendships offline, and some have fallen in love, married and started families together, while others have found work and careers through Warcraft connections.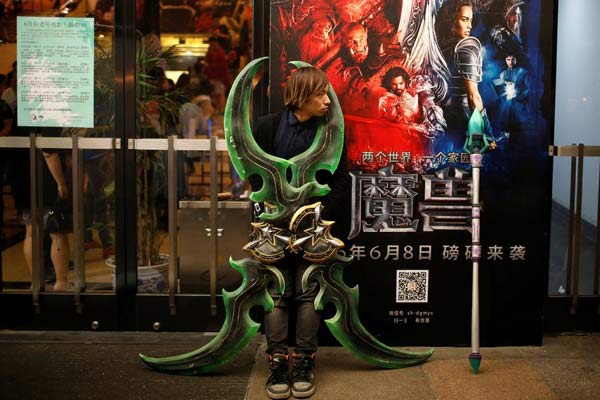 A fan stands in front of a poster during China's premiere of the film Warcraft at a theatre in Shanghai, China, June 7, 2016. [Photo/Agencies]
World of Warcraft entered China in 2005 and quickly became the dominant online game. In its heyday in 2010, Chinese players accounted for half the total.
The third stop of global tour of a Warcraft expo was held in Sanlitun on May 28, featuring official merchandise including toys, theme clothes and other products. Brands officially authorized by World of Warcraft included insurance and banking services, mobile phones and beverages.
Zhang Yong, CEO of the Alibaba Group, at the World Internet Conference late last year, suggested the "internet celebrity economy" was becoming a new economic phenomenon. Warcraft can be described as an "internet super celebrity" in China. Warcraft-related topics have received 570 million clicks on the Sina micro-blog. Warcraft-related searches top the Baidu search engine's hot topics.
"Chinese fans are a strong market. They actively follow micro-blogs and form a huge base of fans or supporters, which is self-perpetuating. As a result, fans form their own groups so the circles of fans provide offline cashability with a solid foundation," says Dong Can, an internet media analyst at Everbright Securities.
The Chinese fan economy is still in its early stages. "The Chinese fan economy is downstream in the industry chain, because publicity and fan operations develop fast," explains Jiang Wei, a media industry analyst.
"It's a long way to get upstream in the chain. Entertainment companies in North America and the Republic of Korea constantly create IP (intellectual property) and stars. If we want to generate valuable assets, we must upgrade and enhance the whole industry of culture and entertainment."
WoWer Zhu Jian says the game is a great social leveler. "The game teaches you to work hard and strive for what you want. You may gain something by trickery in the short term, but you cannot survive if you buy scores. Because everyone competes equally, you have no choice but to use your strengths and personality to win respect."
Tang Long, founder of game startup company Sincerity Lights, agrees. The secret of Warcraft's success, he argues, is that it does not follow the conventional pattern of hitting a monster and upgrading equipment, but creates a world with its own culture of responsibility and honor. This gives WoWers a sense of belonging and loyalty.