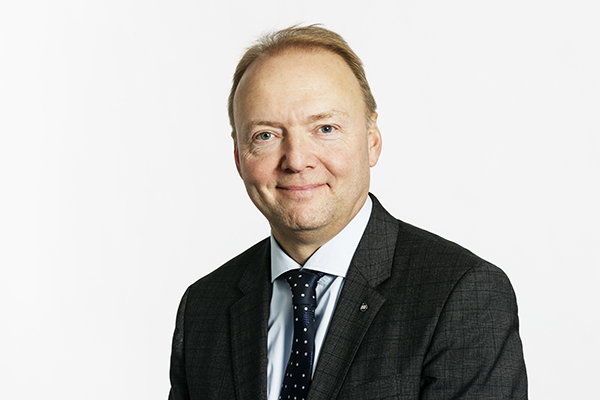 Jeff Gravenhorst, CEO of ISS Group. [Photo provided to China Daily]
ISS hopes to offer its full range of services to public and private customers in 77 countries
As many cities in China restructure and switch their focus from industrial to service-dominated activities, more global providers are rushing to share in the new opportunities being provided, according to ISS Group, the Danish outsourcing company.
Jeff Gravenhorst, its CEO, told China Daily that it is gearing up to expand its business in the country, after enjoying 28 percent compound annual growth in China since launching here in 2005.
According to statistics released by the Ministry of Commerce, the total value of outsourcing services contracts exceeded 218 billion yuan ($33.6 billion) in the first quarter of the year, witnessing a year-on-year growth of 25.4 percent. The total volume of imports and exports of services in China remained the world's second ($713 billion), while imports were in second place and exports ranked fifth.
"The services sector in China accounted for 7.6 percent of total sales in the Asia-Pacific region in 2015," said Gravenhorst, head of what is considered one of the world's largest facility services providers, which was created in Copenhagen in 1901.
He said ISS now has more than half a million employees worldwide, 200,000 of which are in the Asia-Pacific region, including 17,000 in the Chinese mainland.
He has the goal of offering the firm's full range of services, including its featured integrated facility services to public and private sector customers in 77 economies around the world.
"Our clients are mostly large companies such as hospitals, hotels, airports and armies, which require us to support them with professional catering, reception, security, cleaning and maintenance services," said Gravenhorst.
To ensure the standards of its services is maintained, the company provides training handbooks for each of its departments to guarantee the most innovative of skill-sets right across the business.
For example, the team tried to keep it promise of recycling spare carts within five minutes at Shanghai Pudong International Airport.
"We think every member of the cleaning staff should be respected as they are in charge of the seemingly low but professional services to efficiently create a better and safer environment for clients," said Gravenhorst.
In addition, an advisory document to promote and accelerate the development of the outsourcing service industry issued in January by the State Council, China's cabinet, pointed out that the joint development of national and international markets should be enlarged in scale and upgraded in structure.
That also leads ISS to foresee promising market prospects and pay more attention to exploring new opportunities.
"With the continuous structure upgrading in Shanghai, the increasing demand on the services sector, especially lower-end services such as cleaning and catering, will become more obvious," said Lu Ming, a professor from Fudan University.
He added that the type of service packages offered by foreign companies will help more emerging global and local businesses offer higher-standard services to the general public.