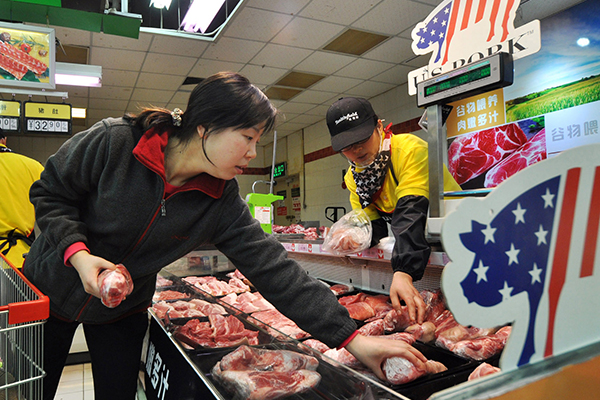 A consumer chooses pork imported from the United States at a supermarket in Zhengzhou, capital of Henan province. [Photo provided to China Daily]
The US pork industry is teaming up with Alibaba Group Holding Ltd to pitch more of its products to online shoppers in China.
The US Meat Export Federation, a trade association committed to developing international markets for US beef, pork and lamb, has recently worked with the group-buying website Juhuasuan and online retail platform Tmall, both operated by Alibaba, to sell US pork on the Juhuasuan website.
A total of 4,000 packages of pork shoulder and pork chop, weighing about 10,000 kilograms, were on sale from April 26 to 28. Nearly 3,000 packages of pork, along with 170,000 bags of spices, were sold during the three-day sale, which attracted 300,000 shoppers, according to Lu Jianing, an Alibaba spokesperson.
The 400-gram package was sold for 19 yuan ($2.9), or 41.2 yuan per kg, which Juhuasuan said was lower than the Chinese market price of 46 yuan.
Most of the buyers in their comments said the price was reasonable and that they were satisfied with the 24-hour delivery.
This year, China has experienced a shortage of pork and rising prices. The average pork price in the week ending on April 29 was 26.24 yuan per kg, up from 17.88 yuan the year before, according to the Ministry of Agriculture.
"The rising prices and imports of pork have been under spotlight lately. The prices of US imported pork are lower than domestic prices," Lu said. "We think it's a good opportunity to promote our service."
The pork shortage in China, a result of decreasing hog counts and production, is also a chance for the pork industry in the US to increase sales to the Chinese market, which consumes about half the world's pork.
"The US red meat industry is encouraged by the growth in its pork exports to China so far this year," said Joel Haggard, USMEF's senior vice-president for the Asia-Pacific region.
"To the extent that rising Chinese pork prices make US and other countries' products more competitive, we can benefit."
According to USMEF, pork exports to China were 86 percent above last year's volume at 73,536 tons and 50 percent higher in value at $138.6 million from the fourth quarter of 2015 to February this year.
In 2015, China accounted for approximately 9 percent of total US pork exports, but year to date, US shipments of pork to China made up of more than 12 percent of total export volume.
"There is still room for growth, however, as US pork exports account for only 20 percent to 25 percent of total US production," said Haggard, adding that the current exports to China are only 3 to 4 percent of total US pork output.
However, the access to the Chinese market is "limited and costly", with China's "stringent" requirements and competition from European pork producers, said USMEF President and CEO Philip Seng in an article posted on the organization's website in July 2015.
He said a significant percentage of US pork products were ineligible for shipments to China because of the use of the muscle-enhancing drug ractopamine and other factors that conflict with China's import requirements, which made it difficult to "capitalize on significant growth opportunities in China".
The Chinese regulators implemented the ban in 2014 and lifted the restrictions for 14 US pork-processing plants and warehouses in October.
It caused a major slowdown of US pork exports in the second half of 2014 and the first half of 2015, but in the meantime, European Union export volume to China was more than one-third higher year-over-year, according to the USMEF.
"China's import conditions are stringent, but China is not lacking for suppliers willing to meet its demands," Seng said. "This means the US industry faces some difficult decisions as we look for ways to expand access for US meat in this critically important market."
The partnership with Alibaba helps the US pork industry better understand the e-commerce market for US red meat products, Haggard said.
"We work with a number of exporters and their Chinese importers, distributors and online platform providers to promote US pork to the online shopping community in China," he said.