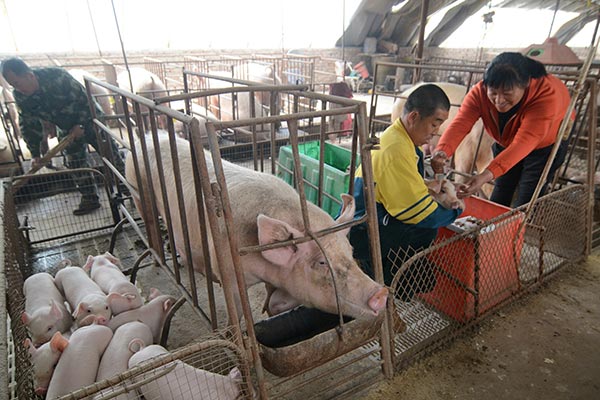 Liu Zhihua (center), a pig farmer from Jinzhou, Liaoning province, checks on a piglet at his farm on April 6, 2016.[Photo/IC]
The rising price of pork is sounding alarm bells in China. Currently, pork costs about 26 yuan ($4) per kilogram-an increase of about 48 percent since last year, according to the Ministry of Agriculture. China, the world's largest producer and consumer of pork, is again seeing worrying impacts of rising pork prices on the overall price of food.
Now is the time to transform China's pork industry using a market-based approach to ensure stable supply at affordable prices. Doing so can reduce food price volatility, as well as further promote diverse and nutritious diets among consumers.
In recent years, pork prices have been largely volatile in China. In March 2014, prices fell close to 7 percent from the previous year, according to statistics from the National Bureau of Statistics of China. Now, hikes in pork and vegetable prices have led to an increase in overall food prices by 7.6 percent. While plans are in place to reduce domestic vegetable prices, Chinese consumers currently face with high pork prices.
What is driving pork price volatility and the recent price spike? More than a colder-than-normal winter and binge eating during the Lunar New Year, it has to do with policies that offset the balance between supply and demand of pork.
The market for pork is distorted due to unintended consequences of sector-wide reforms. Pig farming in China has evolved as a part of larger transformations in Chinese agriculture from small-scale farming to specialized, large-scale commercial farming. Government incentives have promoted large-scale pig production since 2007, resulting in rapid increase in pork production. National pig inventory peaked around 2013. Meanwhile, many small pig farmers exited the business due to low prices from oversupply and costly requirements to address food safety and environmental issues.
As a consequence, the inventory of pigs began to shrink. Between November 2013 and August 2015, the cumulative loss was an estimated 100 million boars and 10 million sows-roughly the size of the combined pork production of the US, Canada, and Mexico.
Demand for pork in China is going nowhere but up. Pork consumption in the country is projected to increase 20 percent from 2011 to 2021. Greater demand, in addition to shrinking supply, can lead to higher prices. Solutions to price spikes and volatility must come from supply-side reforms and demand-side behavioral changes.
More than two-thirds of meat consumption in China is pork. Research has shown that a more diverse diet will help reduce heart diseases and many other illnesses.
Let's not forget the people who suffer the most: rising food prices hurt low- and middle-income families the most. Despite China's impressive progress toward food security and nutrition, it still has millions of people suffering from chronic hunger and under-nutrition, particularly the poor. Foods from animal sources can help the poor and undernourished to address their deficiency of protein and micro-nutrients. High pork and vegetable prices make it harder for these citizens to access and maintain diverse, nutritious diets.
From the supply side, small and medium pig farmers should be better supported or at least not discriminated against by the current policy, as they have a key role to play in stabilizing pork production and prices-they have greater flexibility in labor allocation and use inexpensive, locally available inputs.
Inefficient price support measures, such as the grants and subsidies offered to large operations, distort the pork market and contribute heavily to volatility in pork supply and prices seen in recent years. Such market distortions should be eliminated. Instead, the government should move toward a system whereby the market decides the optimal level of production-where supply meets demand.
In the case that gaps in supply and demand arise, the international market should be used to fill domestic market gaps. The government should also release its strategic pork reserves. In the long run, market-based price stabilization should also be introduced after a careful study and analysis.
The author is director general of the International Food Policy Research Institute.