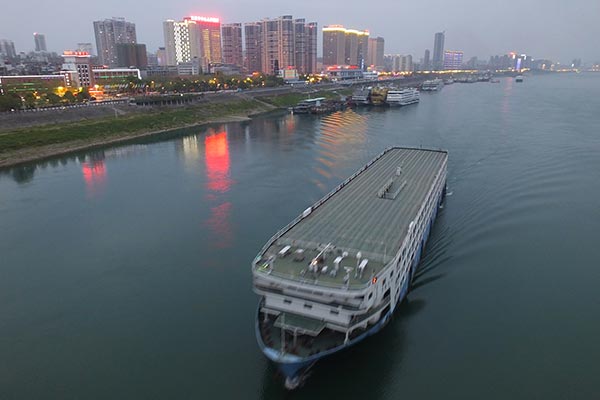 A vessel sails on the Yangtze River in Yichang, Central China's Hubei province, March 28, 2016.[Photo/IC]
The city cluster development plan in the Yangtze River Delta region has been mapped out and submitted to the State Council for approval, the China Business News reported Wednesday.
The National Development and Reform Commission said on its official website yesterday that this year the country will improve six aspects of new urbanization construction, including unveiling a new batch of plans and optimizing urban layout.
Among several city clusters in China, the Yangtze River Delta region, with its excellent location, solid economic foundation and completed urban system, has become the region with the greatest overall strengths.
There could be two changes in the city cluster development plan of the Yangtze River Delta region, Yu Hongsheng, director of the Institute of Urban and Demography Studies under Shanghai Academy of Social Sciences, said to the newspaper.
First, it could include more cities. The number of member cities has increased to 30 since 1992 when the 15 cities' economic and cooperation joint conference system was established.
Second, the regional planning of the Yangtze River Delta region could be adjusted according to the overall economic environment both at home and abroad, such as the Belt and Road Initiative and Yangtze River economic belt.
A blue print to set the development direction of the Yangtze River economic belt was jointly issued by the National Development and Reform Commission, the Ministry of Industry and Information Technology and the Ministry of Science and Technology in March.
Yu said that regional cooperation has three development phases. First, city layout cooperation. Second, cooperation of production factors. Third, system cooperation between governments.
Currently, the city cluster development in the Yangtze River Delta region has entered the third phase and integrated development needs more cooperation from various cities, Yu added.