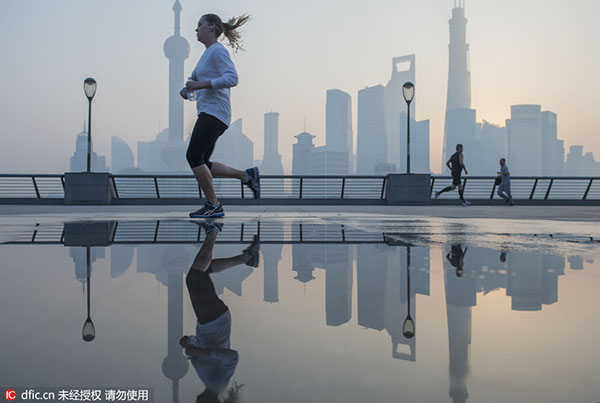 A jogger runs on the Bund after a rain with the skyline of skyscrapers and high-rise buildings in Shanghai, Nov 7, 2013. [Photo/IC]
A key index gauging China's factory activity dipped in April, which analysts said is a sign the world's second-largest economy is still suffering from slow growth despite improved macroeconomic data in the first quarter.
Released on Tuesday, the Caixin/Markit Manufacturing Purchasing Managers' Index, which surveys mainly mid-sized and small enterprises, fell to 49.4 last month from 49.7 in March, the 14th month below the 50 mark that divides economic expansion from contraction.
According to the survey, the subindex of new export orders dropped for the fifth straight month. It was largely on par with the March level, and total new orders from at home and abroad were unchanged.
"All of the index's categories indicated that the foundation for China's economic recovery is yet to be solid. The economy may continue to fluctuate before bottoming out and the government needs to keep a close watch on the risk of a further economic downturn," He Fan, chief economist at Caixin, said in a note.
The official PMI, compiled by the China Federation of Logistics and Purchasing and the National Bureau of Statistics, dropped to 50.1 in April, down from 50.2 in March. Although it dipped slightly, it remains in expansionary territory. The official PMI mainly monitors large enterprises in China.
The Chinese economy expanded at 6.7 percent year-on-year in the first quarter, down from 6.8 percent a year ago, but a slew of stimulus measures, such as relaxed purchasing policies for the real estate sector, have led to soaring home sales and a quick recovery in related industries, such as steelmaking.
Therefore, despite the dip in April's PMI, economists remain confident that the Chinese economy is expected to continue to recover, at least in the short term.
"We expect that real estate activities and industrial production may continue to be growing steadily," said a research note by UBS economists led by Zhang Ning. "But the momentum may ease moderately."
"We think, this year you are going to see stabilization," Kelvin Tay, analyst at UBS Wealth Management, told CNBC.
"You may probably expect unemployment to tick up, you may expect manufacturing to actually slow down a little bit, but we do expect the situation to stabilize because of the stimulus measures the Chinese government has put in place."