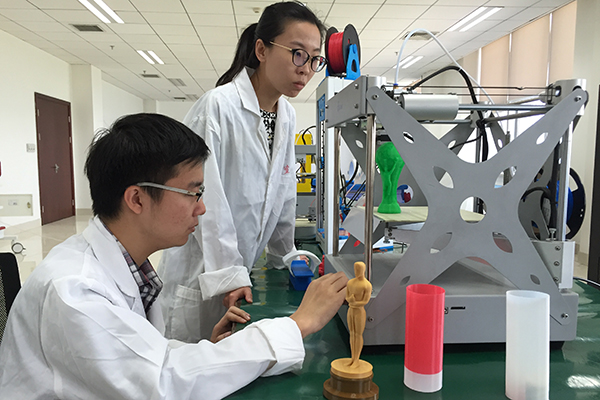 Two engineers at the Tianjin Jinhang Physics Research Institute under China Aerospace Science and Industry Corp conduct test on a 3-D printer. [Photo provided to China Daily]
A State-owned space institute has sold its 3-D printers to Argentina, marking China's first 3-D printer exports to South America, said a senior engineer at the institute.
Tang Xiaoyu, who heads the 3-D printer development at the Tianjin Jinhang Physics Research Institute under China Aerospace Science and Industry Corp, told China Daily that a consumer electronics wholesaler in Argentina has placed orders for 1,000 3-D printers developed by the institute and the first batch of 100 were delivered to the buyer in December.
"The client would sell our products to retailers in Argentina, Brazil and Uruguay," Tang said. He did not reveal the contract's value and his products' prices.
During the mid-March CeBIT, the largest and most internationally represented information technology and electronics expo held in Hanover, Germany, companies from more than 20 nations, including the United States, Egypt, Iran and Japan, expressed interest or intent to buy the institute's 3-D printers.
"We brought four sets of 3-D printers to the CeBIT 2016 and all of them were sold at the expo. A buyer from Germany placed an order for 20 of our products at the event while two retailers from France and the Netherlands respectively are in talks with us on their procurement contract after they saw our 3-D printer at CeBIT," Tang said.
Tianjin Jinhang specializes in laser-related equipment and has produced many types of optoelectronic instruments for China's carrier rockets and spacecraft.
He said the institute has developed seven types of desktop 3-D printers.
Most of their users in China are schools and research organizations while some State-owned aircraft and space enterprises also use its products.
"The core part of a high-end 3-D printer is the laser, which is our specialty. Therefore, we are good at developing 3-D printers and we have full intellectual property rights of our products, which is why many foreign clients favor our products rather than those made by some Chinese private firms despite their lower prices," the engineer said.
Domestically, there are more than 200 retailers selling the institute's 3-D printers, according to Tang.
He said the institute expects a total revenue of about 100 million yuan ($15.4 million) from its 3-D printers within the coming five years.
According to the Shenzhen-based consulting firm Qianzhan Industry Research Institute, the market value of 3-D printer industry in China will reach 10 billion yuan by the end of this year while International Data Corp, a US-based market research, analysis and advisory company, expects nearly 160,000 made-in-China 3-D printers would be sold this year, more than doubling last year's sales of 77,000 units.