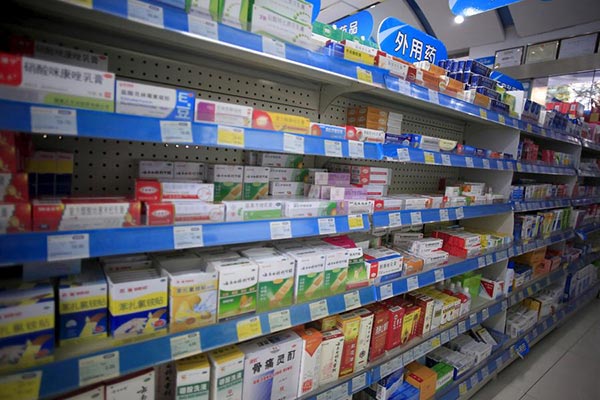 Shelves displaying medicines are seen at a pharmacy in Shanghai, November 27, 2015.[Photo/Agencies]
BEIJING - The State Council has published its major health care reform tasks for the year, with a general practitioner (GPs) pilot program, and reduced reliance on drug revenue for health centers.
This year, 200 cities will trial GP practices, making the service available to 15 percent of urban citizens and 30 percent of key groups, according to the State Council's statement.
GPs will open their practices to residents, providing them with basic, consistent medical services.
The plan is part of a tiered health system being rolled out across the country.
To improve local-level medical institutions, the government will allow physicians in public hospitals to practise or establish their own practices, according to the major tasks of the health reform this year.
Another health reform task this year will be the establishment of a pricing mechanism for drugs to reduce the cost born by patients, the State Council said.
Patients will be given the choice of buying drugs from hospitals or retail pharmacies, it added.
The public hospital reform will be further advanced this year, according to the major tasks, which said that 100 more cities will carry out pilot public hospital reform this year.
According to the pilot reform, revenues of public hospitals will not rely on drugs but medical service charges.