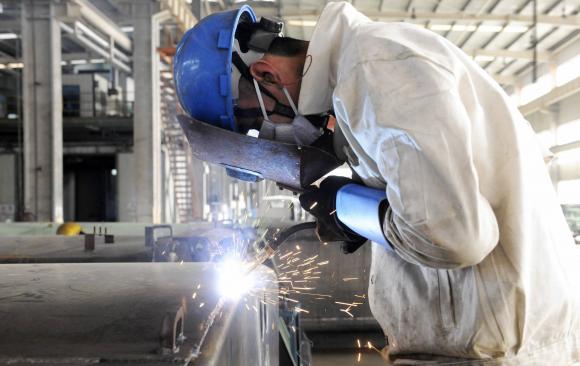 An employee welds the exterior of a vehicle along a production line at a factory in Qingdao, Shandong province. [Photo/Agencies]
China's 6.7 percent year-on-year gross domestic product growth in the first quarter of this year, although a little lower than the 6.8 percent growth rate in the fourth quarter of last year, is still within the expected annual growth range of 6.5 to 7 percent.
Along with the better-looking employment situation and improved price indexes, such first-quarter growth, despite being the lowest since 2009, heralds a good start to the year.
And as a barometer of its economic recovery, China's A-share stock market has been bullish since the beginning of March, with the Shanghai Composite Index regaining more than 15 percent as of close of trading on Friday. Such an appreciable rise reflects the country's improving economy.
The continuous irrational fall in China's A-share market in the initial months of this year amplified pessimism about the country's economic prospects this year. But we should know that our subjective impression or image of China's economic outlook is not necessarily more objective than the official economic data, such as the positive growth in exports, steady investment growth and improved PPI.
And, despite the weak marginal effect produced by economic stimulus, investment in infrastructure and real estate has still played an important role in stabilizing China's economic growth.
At the current stage, investment is still of self-evident significance to China's economy. Japan and the Republic of Korea both belong to developed economies, but the economic value brought by investment still constitutes a considerable amount of their economic aggregates.
It is widely believed that an investment-dependent growth model is unsustainable in China, but there is still space for investment-driven growth if the country works to optimize the distribution of its resources, such as adjusting the roles of State-owned enterprises, local governments and private enterprises and extending private players a greater presence in national investment.--Beijing News