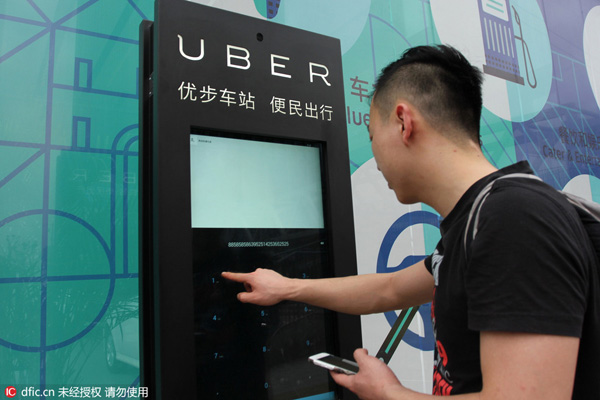 Photo taken on April 14, showing a Uber car-hailing station in Longyang Avenue, Wuhan, capital of Central China's Hubei province.[Photo/IC]
BEIJING -- Undaunted by ride-hailing app Didi's dominance in the Chinese market, Uber sees potential to chip away at the company's virtual monopoly outside first-tier cities.
Uber said on Thursday its ride-hailing service in Hefei, provincial capital of east China's Anhui Province, grew by over 30 percent daily since launching in March, the fastest uptake rate the company has seen in about 400 cities around the world where it operates. Uber now accounts for more than 50 percent of ride-hailing service in the city.
UberPool, which allows drivers to pick up more than one paying passengers at a time, was launched last year to compete directly with Didi in ride-sharing services.
China's "sharing economy" is booming, and ride services are gaining popularity as an alternative to public transportation for daily commutes.
While conventional wisdom holds that top-tier cities such as Beijing and Shanghai are the easiest places for a business to launch in China, Uber has had far better success in China's second- and third-tier cities, said Wen Yilong, who runs Uber's Hefei operations, in a company press release.
Hangzhou in eastern China and the southwestern economic powerhouse Chengdu, both second-tier cities, used to be Uber's two best performing cities in the world.
Smartphones and mobile Internet are closing the gap between China's megacities and the rest. That puts cities big and small on the same starting line because "apps used by people in large cities are also used by their peers in small cities," Wen said.
Like many foreign companies, Uber has made inroads into the Chinese market through top-tier cities since 2014 and began to penetrate smaller cities during the second half of last year.
The ride-hailing app seeks to expand its presence in 100 Chinese cities this year, including previously uncovered northeastern and western regions. Uber's ride-hailing service is currently available in 50 cities.
Rival Didi has a far bigger presence, operating in more than 400 Chinese cities and held 84.1 percent of the ride-hailing market nationwide as of February, according to data compiled by iResearch.
Liu Zhen, head of strategy for Uber China, said the company is eyeing a disciplined expansion in China and will weigh the decision to enter new cities based on a number of criteria, including local population, level of development and consumption patterns.
Uber's global CEO Travis Kalanick said last month that the company is using profits earned from other foreign markets to fund operations in China, where he thinks competition and growth are both unrivaled.