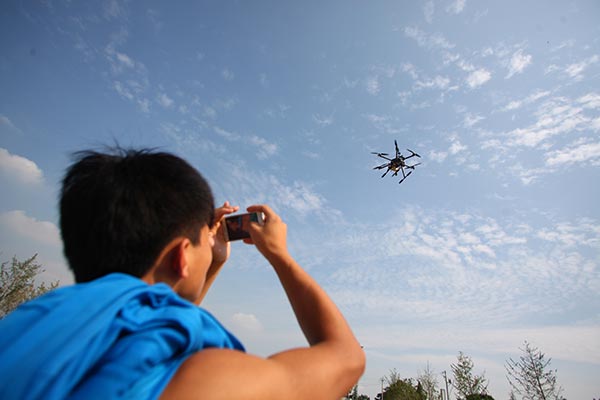 A local resident takes a photo of a UAV flying over Xi'an for environmental protection proposes.[Provided to China Daily]
A new industrial base for China's burgeoning unmanned-aerial-vehicle sector is being created in Shaanxi province.
The Aviation Science Park for Civil UAV Development is being jointly led by Northwest Polytechnical University, one of China's leading aviation, aerospace, marine engineering institutions, and the Xixian New Area, an urban and industrial development zone between provincial capital Xi'an and the neighboring city of Xianyang.
Wang Jinsong, president of the university, said the new industrial base will be built on 40 hectares in the area's Fengxi New Town, a State-level site supported by the Ministry of Industry and Information Technology, and the Shaanxi provincial government.
Its creation has been planned to accelerate the UAVs industry in China, said Wang, placing Shaanxi at its core with the intention of expanding business overseas.
Xi'an ASN Technology Group Co, one of the university's high-tech startup companies, will be at the center of the plans.
Wang Junbiao, ASN's general manager, called the planned investment in the hub "considerable" without elaborating.
The project will form what he described as a coordinated UAV development chain, of innovation, research, technology development, manufacturing, system integration and flight testing, customer service, after-sale service and personnel training.
"Construction is expected to be complete and operational within two years, with annual output of more than 1,000 high-end UAVs," he said.
Liu Yubin, deputy director of the Xixian New Area's administrative committee, said a diverse range of vehicles will be designed and built there, including those for photography, geophysical prospecting, disaster monitoring and coastal anti-smuggling activities.
Zhang Yuzhuo, a professor at Northwest Polytechnical University and a designer of multipurpose UAVs, said the UAV development is a priority sector within the wider aviation market.
The creation of a specialist hub for the industry would be vital in helping China catch up with the rest of the world.
Established in 1992 in Xi'an, ASN has created a complete UAV-industry chain, covering scientific research, production and after-sale services.
"The company has a leading place in the Chinese UAV industry, having accumulated rich experience in design, propulsion, flight control, navigation and guidance, launch and recovery, system integration and flight testing."