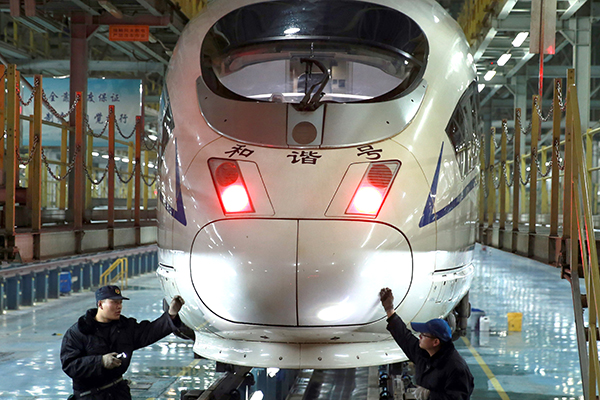 Technicians examine a nearly finished bullet train at a factory of CRRC Qingdao Sifang Co Ltd in Qingdao, Shandong province. CSR Sifang America JV, a CRRC subsidiary, clinched a $1.3-billion deal from the Chicago Transit Authority this month to supply up to 846 metro vehicles to the Midwestern city. [Photo provided to China Daily]
Chinese firms gear up to export smart bullet trains, subway and railway technologies and equipments
China Railway Rolling Stock Corp, the country's largest train-maker, is planning to build bullet trains and provide services in developed markets, including the United States and the United Kingdom, to further compete with its established rivals in Europe, Japan and Canada during the 13th Five-Year Plan (2016-20).
Many of these opportunities come from surging demand in these countries for improved railway infrastructure facilities, passenger services and regional connectivity. They also want to boost local job markets and related commercial areas in the process.
CRRC has set a target of 30 percent growth by 2020 in its research and development ability from current levels. This target is especially applicable to its three bullet train manufacturing subsidiaries-CRRC Tangshan Co Ltd, CRRC Qingdao Sifang Co Ltd and CRRC Changchun Co Ltd.
Yu Weiping, CRRC's vice-president, said the company will further develop "smart trains". Such trains will use advanced digitalization and automation technologies that enable automatic speed control, condition determination and fault detection.
CRRC's goal is to grab more global market share from its foreign competitors, he said. The company is in talks with more than 30 countries, including the US, Russia, Brazil, Thailand, Turkey, Saudi Arabia and Iran, about high-speed rail projects.
CRRC and its partner, China Railway Corp, the country's railway service provider, were selected by the Indonesian government last year to build the nation's first bullet train railroad project. The two companies will construct the $5.5-billion, 150-kilometer high-speed railway line linking the capital Jakarta with Bandung.
This is China's first overseas high-speed train project. It involves design and construction work, financing solutions, and operational and maintenance services.
With more than 184,000 employees and 52 subsidiaries in various industries, including signal system design, train and related equipment production, CRRC has already built manufacturing facilities and maintenance centers in the US, Malaysia, Turkey and Brazil.
Yu said the company is keen to contribute to a new high-speed rail culture in the US, after it invested $60 million to build a new manufacturing facility to produce railcars in Springfield, Massachusetts, last year. The company is preparing to build another one in Chicago soon.
"With high-speed trains traveling at a speed of over 300 kilometers per hour, it will help the US to change its ground commuting systems that have long been dominated by automobiles," said Yu.