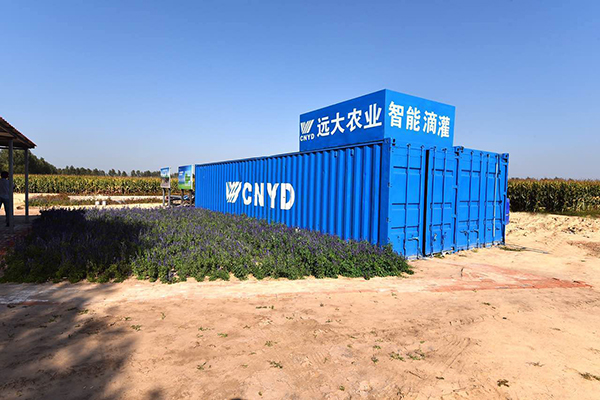 Shenyang Yuanda's farm monitor uses technology from AutoAgronom Ltd, an Israeli company, at a farm in Fuxin, Liaoning province. [Photo provided to China Daily]
In tune with the larger trend of Chinese companies shopping overseas for M&A targets, Shenyang Yuanda Enterprise Group is seeking opportunities this year to acquire advanced agribusiness companies in the United States and Germany this year.
Shenyang Yuanda Enterprise is eyeing more market growth points as China embarks on supply-side reform with gusto. It wants to improve its ability in agricultural environment protection and renewable crop resource utilization.
This reform includes a series of policies to improve the agricultural sector, public services, environmental protection, quality and scale of production and further opening up of Chinese markets for foreign investors.
"As China's economy is undergoing a structural adjustment and industrial boom, we discovered that the government is treating the modern agriculture development as a priority, and encourages companies to invest more in this sector to assist the development of supply-side reform," said Kang Bohua, chairman of Yuanda Enterprise.
Headquartered in Shenyang, capital of Northeast China's Liaoning province, Yuanda Enterprise's businesses span construction materials, elevators, manufacturing machinery and industrial robots.
It has four large-scale manufacturing plants in Shenyang, Shanghai, Chengdu and Foshan, and has a strong market presence in Latin America, Africa, Europe and Russia.
Eager to further diversify its business categories, the Chinese company began to deploy more capital and resources in the agricultural sector in 2014. It first acquired AutoAgronom Ltd, an Israeli drip irrigation and fertilization system manufacturer, for $20 million.
AutoAgronom owns a technology that "listens" to the growth of the roots and decides to irrigate and feed fertilizers to the plants. It can save up to 50 percent of water and 70 percent of fertilizer, as well as increasing the yield by up to 15 percent.
Founded in 1988, the Israeli company's products are currently used in 13 countries such as the United Kingdom, the US, Mexico and Egypt. It is recognized by its clients as an expert in improving efficiencies of water and fertilizer usage for environmental protection.
Shenyang Yuanda Enterprise has introduced AutoAgronom's technologies in the western parts of Liaoning, the eastern part of the Inner Mongolia autonomous region and the Ningxia Hui autonomous region, where the soil conditions are either dry or saline-alkali. The effort has produced handsome financial returns.
"The system has helped us to farm on the sand, saline-alkali soil or even on the semi-desert areas, which can restore underground water and help manage heavy metal and garbage pollution," said Kang.
Yuanda Enterprise has also developed relative agricultural manufacturing facilities based on AutoAgronom's intelligent drip irrigation system in Shenyang last year.
"The outcome of this acquisition apparently is attractive, as the area of drip irrigation system farming in China increases between 10 and 15 percent each year," said Ding Lixin, a researcher at the Chinese Academy of Agricultural Sciences, Beijing.
"That is more than all in Israel and Europe together. It is definitely a huge market for China," said Ding.