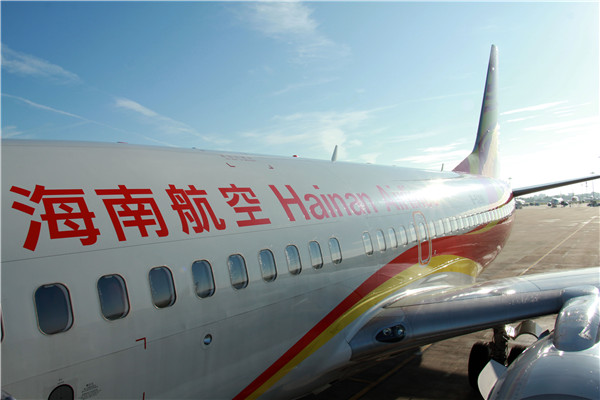 An airplane with HNA Group waits to take off in Haikou, Hainan on Sept, 19, 2015.[Photo/CFP]
HNA Group, the Chinese aviation and shipping conglomerate, and a consortium led by Ontario Teachers' Pension Plan Board and Borealis Infrastructure, are in the lead to buy London City Airport from its United States owners, according to sources close to the potential deal.
The central London airport, owned by Global Infrastructure Partners, could fetch more than 2 billion pounds ($2.8 billion).
The companies have been asked to submit another round of bids on Wednesday, and GIP has not chosen a winner, two of the sources said, adding Cheung Kong Infrastructure Holdings Ltd is also still interested in bidding.
The airport, located about 10 kilometers from London's financial district and opened in 1987, was bought by American International Group Inc and GIP in 2006.
At the time, reports said the companies agreed to pay 750 million pounds, though terms were not disclosed. Two years later, American International sold its stake to GIP and Highstar Capital, which now owns 25 percent.
Any deal would add to the $22.7 billion of airport-related acquisitions already completed over the past 12 months, according to data compiled by Bloomberg.
Spokesmen for GIP, PSP and Borealis declined to comment. Representatives for Ontario Teachers' Pension and CKI did not immediately respond to requests for comment, while a media representative for HNA said she could not immediately comment.
The winning bidder will have to come to terms with ongoing political wranglings that stand in the way of a planned expansion that would help City Airport serve 6.5 million passengers a year by 2023. London Mayor Boris Johnson vetoed the 250-million-pound plan to add aircraft stands, an arrivals terminal and taxiway last year.
Flights from City Airport carried 3.6 million passengers in 2014, according to the operation's annual report, a 7.9 percent increase from the year before.
HNA, which controls China's fourth-largest carrier, Hainan Airlines Co Ltd, last month bought a stake in Uber China Ltd and completed its acquisition of aircraft lessor Avolon Holdings Ltd for $7.6 billion including debt.
Last week, its shipping affiliate announced a $6.1 billion takeover offer for California-based software distributor Ingram Micro Inc.