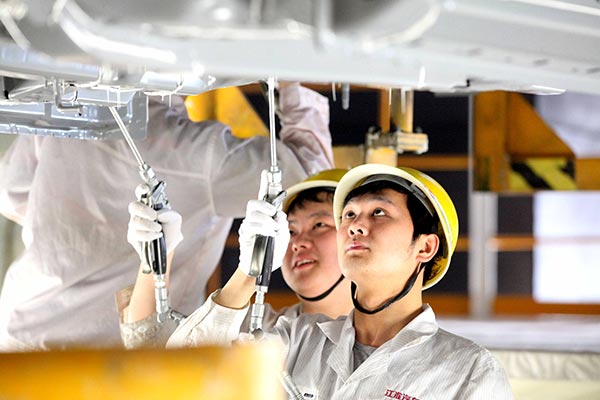 Workers at the production line of Anhui Jianghuai Automobile Co Ltd in Hefei, capital of Anhui province. [LIU QINLI / FOR CHINA DAILY]
As of Wednesday, 31 province-level regions had released their local gross domestic product (GDP) data for last year, China Economic Net reported Thursday.
Guangdong takes the top spot with 7.28 trillion yuan ($1.11 trillion), followed by Jiangsu 7.06 trillion yuan and Shandong 6.30 trillion yuan.
Of the 31 province-level regions that released their local GDP data, 23 reported GDP growth over 7 percent year on year, while Chongqing, Guizhou and Tibet all posted double-digit GDP growth.
Chinese economic growth decelerated to the 25-year low of 6.9 percent in 2015, down from 7.3 percent in 2014, according to data released by the National Bureau of Statistics.
Last year, 25 provinces joined the "one-trillion-yuan GDP club". Gross domestic product in six provinces, Guangdong, Jiangsu, Shandong, Zhejiang, Henan and Sichuan, exceeded 3 trillion yuan, among which Guangdong and Jiangsu topped the 7 trillion yuan mark for the first time.
The bottom three are Tibet, Qinghai and Ningxia Hui autonomous region, all with GDP bellow 300 billion yuan.
In terms of GDP growth rate, Liaoning was the weakest performer last year, when its GDP growth fell to 3 percent, which was also the lowest level recorded in 23 years. That compared to 5.8 percent growth in 2014.
Liaoning governor Chen Qiufa said in a 2016 government work report that last year was a really tough year, and it contributed to difficulties in investment and industry.